On September 30, 2017, SGM Perak collaborated with the Perak Islamic Religious Affairs Department, the Malaysia Chinese-Muslim Association (MACMA) and the Muhammadiah Mosque in holding the "Unity Lantern Festival", attracting hundreds of people, creating an atmosphere of racial unity and harmony.
Perak Menteri Besar YAB Datuk Seri Dr Zambry Abdul Kadir was the guest-of-honour at the event held at the mosque. In his speech, he praised the organisers for holding such an event that enables people from different religious backgrounds to learn more about other faiths, foster understanding and expand cultural exchange.
SGM Perak Chairman Lai Soo Ha remarked that SGM organises such activities for the public to promote harmony between the various ethnic groups in our country.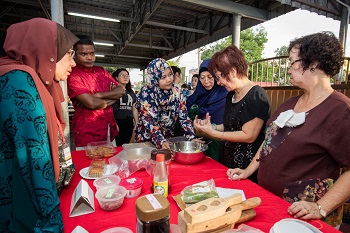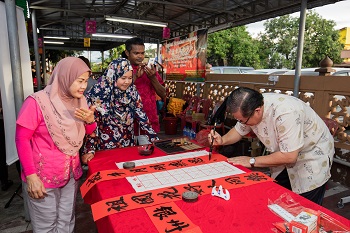 Eleven SGM Perak culture group members put up a 24-seasons drum performance to enliven the atmosphere. The audience also had the opportunity to dabble in lantern-making, the art of paper-cutting, making mooncakes and participate in a lantern procession.
Other dignitaries present included MACMA chairman Datuk Dr Fadzli Cheah Abdullah; the Perak Islamic Religious Affairs Department director Datuk Mohd Yusof Husin and chairman of the Perak branch of the Malaysian Consultative Council Buddhism, Christianity, Hinduism, Sikhism and Taoism, Tai Foo Lowai.