October 2 is celebrated within the Soka Gakkai as World Peace Day, marking a key milestone in the international development of Nichiren Buddhism, with its goal of contributing to building lasting peace throughout the world.
Commemorative Dates
Commemorative Dates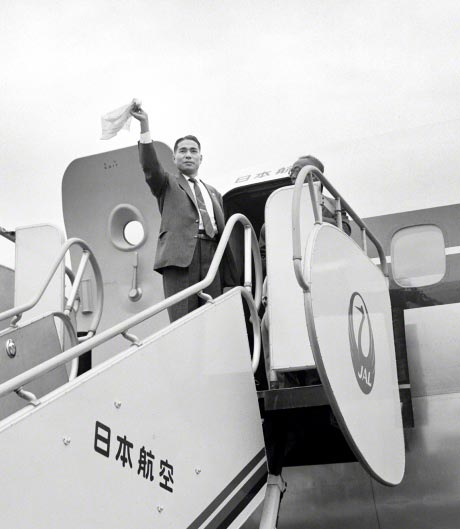 Against the backdrop of the Cold War and an escalating nuclear arms race, then Soka Gakkai president Daisaku Ikeda left Tokyo's Haneda Airport on October 2, 1960, traveling outside of Japan for the first time to visit the USA, Canada and Brazil. Ikeda was 32 years old at the time and had been inaugurated as the third president of the Buddhist group just five months earlier.
It was Ikeda's mentor, second Soka Gakkai president Josei Toda, who had encouraged Ikeda to develop a global vision and to travel outside Japan to build the foundations of a truly international movement, contributing to building peace through the spread of a philosophy that teaches the supreme value and dignity of human life. Having lived through World War II, both men knew that peace is the most basic starting point for the advancement of humanity.
In addition to encouraging the few members of the Soka Gakkai living outside Japan in their faith and practice, Ikeda strove to understand the prevailing social, political and cultural conditions in these countries. Through citizen diplomacy, he also wished to play his part in lessening tensions between the countries of the West, the Soviet Union and China.
Over the following decades, Ikeda travelled to more than 50 countries covering every continent, holding dialogues with leading cultural and intellectual figures to increase mutual understanding and strengthen the foundations for peace. His global vision and continuous efforts eventually led to the creation of Soka Gakkai International (SGI) in 1975 and to the spread of Nichiren Buddhism to 192 countries and territories.
Today, within the Soka Gakkai, October 2 has come to symbolize the shared commitment of Soka Gakkai members around the world to creating a wave of positive change in society through promoting nonviolence and working for the happiness of all humanity.