It was on January 26, 1975, that the Soka Gakkai International (SGI) was inaugurated at the First World Peace Conference on the island of Guam—the site of fierce fighting between American and Japanese military forces and of countless deaths of innocent civilians during World War II.
Commemorative Dates
Commemorative Dates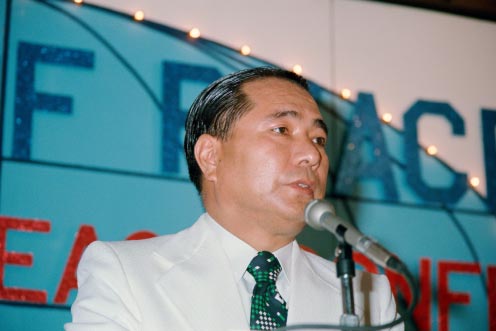 The SGI was founded as a global association to link independent Soka Gakkai constituent organisations around the world and support the faith and Buddhist practice of an increasing international membership. It was then Soka Gakkai President Daisaku Ikeda's vision to make Guam the symbolic starting point for this movement—a network of individuals committed to promoting understanding between cultures and actualizing peace.
Some 158 representatives from 51 countries and territories attended the meeting, which is now celebrated annually as SGI Day, and at their request, Daisaku Ikeda took up the position of president of the newly-formed SGI.
In his speech on that occasion, Ikeda stressed that Buddhism is grounded in the philosophy of respect for the dignity of life and made a powerful declaration stating that he would dedicate his life to the endeavour of promoting a lasting peace. He also encouraged the members to live altruistically: "Rather than seeking to bring your own lives to bloom, devote yourselves to planting the seeds of peace throughout the world."
There are now members in 192 countries and territories, with 90 independent local constituent organisations and a total membership of around 2.2 million members outside Japan. Each local organisation develops its activities in respectful accordance with the culture and characteristics of that society, based on an understanding of the links between individual happiness and the peace and development of all humanity.
Countries And Territories
Independent Local Constituent Organisations
The SGI Charter, adopted in 1995, clarifies that the mission of the SGI is to respond to current problems in society and the world based on the philosophy of Buddhism:

We, the constituent organisations and members of the Soka Gakkai International, embrace the fundamental aim and mission of contributing to peace, culture and education based on the philosophy and ideals of the Buddhism of Nichiren Daishonin . . . We believe that Nichiren Daishonin's Buddhism, a humanistic philosophy of infinite respect for the sanctity of life and all-encompassing compassion, enables individuals to cultivate and bring forth their inherent wisdom and, nurturing the creativity of the human spirit, to surmount the difficulties and crises facing humankind and realize a society of peaceful and prosperous coexistence.
In reference to the inaugural meeting on Guam, Ikeda states, "Since that first gathering, the members of the SGI have consistently upheld the conviction that dialogue represents the sure and certain path to peace."
In this spirit, on January 26 every year since 1983, in commemoration of SGI Day, Ikeda has authored peace proposals exploring the interrelation between core Buddhist concepts and the diverse challenges global society faces in the quest to realize peace and human security.