Relay for Life is a worldwide movement that aims to spread awareness about cancer as well as raise much-needed funds for cancer services. It began in the USA, under the American Cancer Society, and is now held in over 20 countries around the world. The National Cancer Society of Malaysia Penang Branch initiated the Relay in Malaysia, in 2005.
This year, SGM Penang supported the event with 60 participants and contributed a sum of over RM 2,000 in the Relay for Life event held on September 30 at the Universiti Sains Malaysia athletics stadium. Two of the SGM participants are cancer survivors.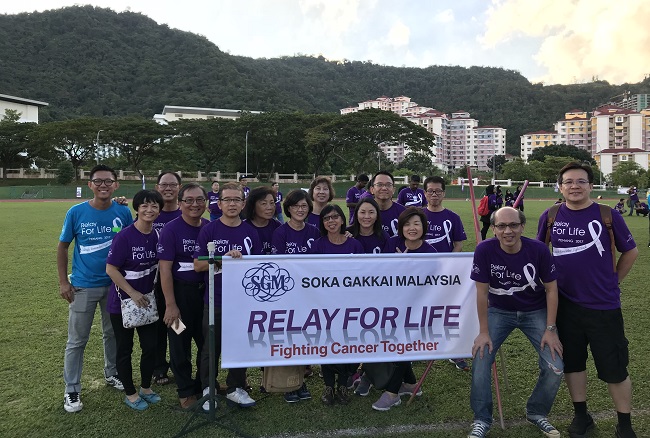 The event started with the survivor lap, followed by caregivers and participants who support the event. This event is held to symbolise the ongoing fight against cancer. This is followed by the Luminarias after sundown. The sights of beautiful lights in the darkness reminded people of the importance of hope and courage. In the darkest moments, when all efforts seem futile, there is always hope and courage.
The Gosho says: "If one lights a fire for others, one will brighten one's own way." (WND-2, p. 1060) When people overcome fear with hope and courage, not only will it light up a path for oneself, but it will light up a path for others as well.