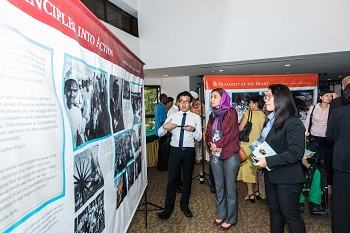 "Gandhi, King, Ikeda: A Legacy of Creating Peace" exhibition
October 2 is Mahatma Gandhi's birthday, and this year marks the 148th anniversary of his birth. To commemorate his efforts in advocating the philosophy of nonviolence, in 2007, the United Nations (UN) passed a resolution making October 2 International Day of Nonviolence. This day is an occasion to "disseminate the message of non-violence, including through education and public awareness". The resolution reaffirms "the universal relevance of the principle of non-violence" and the desire "to secure a culture of peace, tolerance, understanding and non-violence".
In Malaysia, this significant day is commemorated through various events, one of which is the Gandhi Memorial Lecture organised by the Gandhi Memorial Trust (GMT) held on October 2 at the Royal Lake Club, Kuala Lumpur. This year's lecture, the seventh, was delivered by Dr Mohamed M. Keshavjee, prominent international speaker, attorney and human rights advocate. Dr Keshavjee, the recipient of the 2016 Gandhi, King, Ikeda Community Builders Prize, is from South Africa and experienced first-hand the cruelty of the apartheid system in South Africa.
Dr Keshavjee's lecture was titled "Gandhi, Mandela, Martin Luther King Jr and Ikeda: Precursors of Transformative Mediation – A Need for the 21st Century." The lecture spoke of the four global icon's efforts in peacebuilding and their inspirations. On SGI President Daisaku Ikeda, Dr Keshavjee spoke of his efforts in pursuing and promoting dialogue as a way to bring people together.
UN Resident Coordinator in Malaysia Stefan Priesner was the guest-of-honour, with heads of foreign missions, government officials and other distinguished guests also in attendance.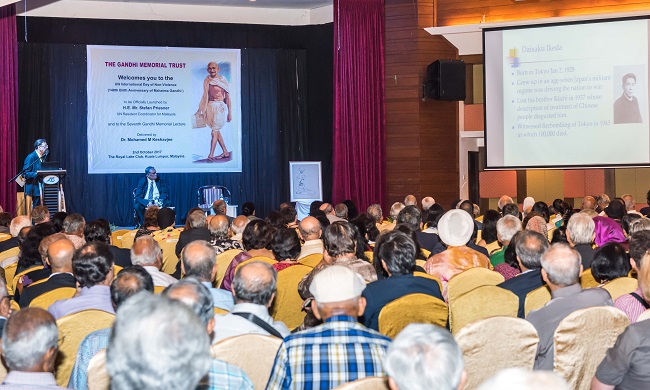 At the lobby area outside the ballroom of the Royal Lake Club where the event was held, SGM put up the "Gandhi, King, Ikeda: A Legacy of Creating Peace" exhibition. The narrators were members of the SGM Student Division and their friends. Members of the audience paid close attention to the narration by the student volunteers on the efforts of the three men from three different cultures and continents who have followed a common path of profound dedication and achievement in improving the lives of all people.
Members of the audience also interacted with the narrators on the contents of the exhibition and expressed their approval at their efforts and the message of the exhibition. Dr Lawrence E. Carter, dean of the Martin Luther King Jr International Chapel at Morehouse College, US, who created this exhibition, sent a message expressing his gratitude at the showing of the exhibition.