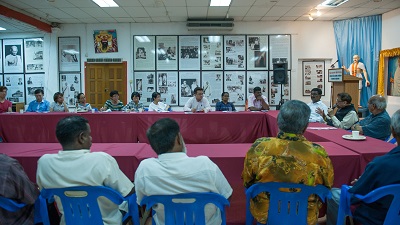 On October 8, 2016 Gandhi, King, Ikeda Community Builders Prize Recipient Dr Mohamed M Keshavjee visited Penang Gandhi Peace Centre (PGPC) for an informal roundtable discussion with members of the Penang Gandhi Peace Centre at the Gandhi Ashram (Hindu Mahajana Sangam). A total of 11 representatives from SGM Penang, a partner of the PGPC, attended the discussion.
After a welcoming speech by Chairman of the Gandhi Ashram Dr Chandra Malairaja, who gave a brief history of the origins of the Ashram, Prof Dato' (Dr) Anwar Fazal, Director of the Right Livelihood College, introduced the guest of honour Dr Keshavjee.
Dr Keshavjee is a lawyer and a specialist in international cross-cultural mediation. Born in South Africa, he is presently based in the United Kingdom, having resided in Kenya and Canada.
In his speech, Dr Keshavjee commented how in a mere three to four hours after landing in Penang he saw how cosmopolitan the city is – with so many cultures, religions, diverse foods and languages. He said that this was a great example of what can happen when all people share one another's differences.
He commended Dato' Anwar on his work which is beyond religion and race. What fascinated him was the fact that Gandhi had connected all of us to be present that day – with him, a Muslim from South Africa, appearing in Penang – with another Muslim in Dato' Anwar – and discussing conflict resolution and peacemaking with a group of Buddhists, Hindus and Christians.
Gandhi inspired people like King, the late Nelson Mandela and SGI President Daisaku Ikeda. The SGI and Dato' Anwar have been inspired by Gandhi's philosophy in their efforts for peacebuilding.
Dr Keshavjee highlighted that when we oppress somebody, we actually dehumanise ourselves. That is why the humanistic philosophy of the SGI, Gandhi's principle of ahimsa, the nonviolent civil disobedience philosophy of King and Mandela's notion of ubuntu are so important.
Then, on October 9, Dr Keshavjee delivered a public lecture to about 60 members of the public titled "Cosmopolitanism: Past, Present and Future – Only Hope for a Peaceful World."
He talked on the importance of practising pluralism – identifying with others and recognising that they are they and you are you.
In discussing cosmopolitanism he mentioned Mahatma Gandhi, Martin Luther King Jr and Daisaku Ikeda grounding it in different but overlapping humanistic philosophies.
In concluding, he quoted from Indian poet Rabindranath Tagore's Gitanjali:
Where the mind is without fear and the head is held high
Where knowledge is free
Where the world has not been broken up into fragments
By narrow domestic walls
Where words come out from the depth of truth
Where tireless striving stretches its arms towards perfection
Where the clear stream of reason has not lost its way
Into the dreary desert sand of dead habit
Where the mind is led forward by thee
Into ever-widening thought and action
Into that heaven of freedom, my Father, let my country awake.
The lecture was followed by the launching of Dr Keshavjee's book Diasporic Distractions – New Faces in New Places, a collection of 16 short stories which capture the experiences of the global Indian diaspora in the 20th century.
SGM Penang also put up the "Everything You Treasure – For a World Free from Nuclear Weapons" peace exhibition which was viewed by all who attended the lecture.