From March 17 to April 8, 2018, SGM hosted a solo exhibition of veteran artist Syed Thajudeen's artworks. Held at the Soka Exhibition Hall in Wisma Kebudayaan SGM, the exhibition entitled "Splendours of Love – The Art of Syed Thajudeen" showcased 42 pieces of his works in three sections, namely 1) Merdeka, 2) Culture ∙ Heritage, and 3) Spirituality.
In his welcoming remarks during the opening ceremony on March 17, the Deputy President of Soka Gakkai Malaysia, Johnny Ng Teck Sim mentioned that love, as an integral theme in Syed Thajudeen's works, is essential to life and growth of humanity. He emphasised the importance of gratitude as the essence of all beautiful and great art.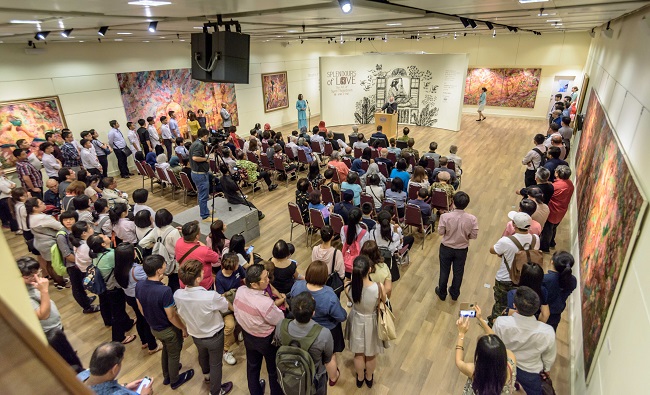 Next, Syed Thajudeen gave a speech, thanking SGM members for their dedication and professionalism which filled the exhibition with familial warmth and making it a success. He is also indebted to his parents and teachers for warning him of the difficult life of an artist which gave him the courage to carry on pursuing his dream.
On hand to open the exhibition was former chairman of National Art Gallery Board of Trustees, YBhg Tan Sri Kamarul Ariffin bin Mohamed Yassin. In his speech, Tan Sri Kamarul spoke at some length about the caves, monuments, temples and places that inspired Syed Thajudeen, giving the audience fresh insights into the way the artist's masterpieces have been formed. Tan Sri also recited a poem he composed, dedicating it to the artist.
Other guests gracing the ceremony included HE Ibete Fernandez Hernandez, Ambassador of the Republic of Cuba to Malaysia and local artist Ms Athena Beh who rendered a powerful song entitled "Never Enough."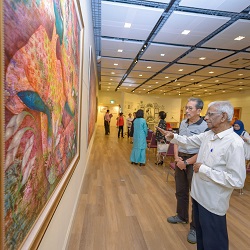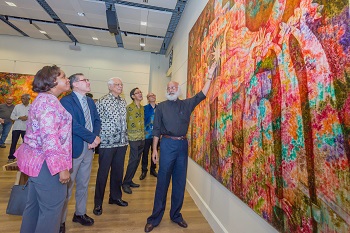 Syed Thajudeen, 75, is a prominent Malaysian figurative artist. He spent his formative years in Penang and obtained his art education in India, a vast land which continues to inspire him. Very early on in his career, he has found his unique style which he derived from the wall paintings in Ajanta Caves. Hence, he has painted huge masterpieces such as The Eternal Love between Hang Tuah and Puteri Gunung Ledang, measuring 183x762cm, the largest work in this exhibition. His repertoire also includes epic works depicting scenes from The Ramayana and The Mahabharata.
Another main focus of this solo exhibition was a selection of works in the "Spirituality" section where he depicts works with religious themes, many of which were exhibited for the first time.