The SGM Study Department has launched a five-year campaign since 2017 to study The Wisdom of the Lotus Sutra: A Discussion. The content of the study is derived from the dialogue SGI President Ikeda held with leaders from the Soka Gakkai Study Department between 1995 and 2000, discussing religion in the 21st century and elaborating on the wisdom of the Lotus Sutra from various angles. Their discussions have been pivotal in creating hope, opening the minds of people and help fill the spiritual void in society.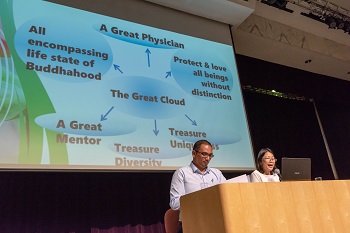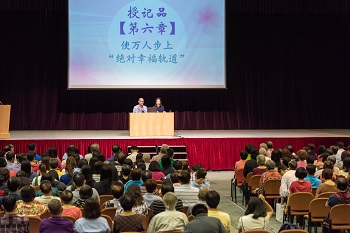 The first study session for 2018 was held on April 8 at the SGM Culture Centre and broadcasted live to 32 other SGM culture and area centres throughout the country. The scope of study included "The Parable of the Medicinal Herbs" (fifth chapter of the Lotus Sutra) which discusses the unique potential of individuals; "Bestowal of Prophecy" (chapter 6) which speaks about guiding innumerable people to embark on the path of good fortune, and "The Parable of the Phantom City" (chapter 7) which explains the everlasting bond between mentor and disciple.
The speakers' clear presentation on the topics has indeed strengthened the faith of the audience, giving them joy and happiness.