From April 10–12, 2018, 125 six-year-old children and 14 teachers of Tadika Seri Soka (TSS) visited Wisma Kebudayaan SGM. They visited the Ikeda Peace Exhibition Hall and the Mentor and Disciple Peace Exhibition Hall for the exhibitions entitled "Our Beautiful Earth: Photography Exhibition by Daisaku Ikeda" and "In Pursuit of Peace."
During the tour, the curious children enquired about the photos they saw, asking questions like "Why did the fish gather at one point?", "Why is the tower slanting?" and so on. The teachers carefully explained the significance and stories behind the photos which were taken by SGI President Ikeda. They also delivered messages that they must have courage, eagerness to face challenges and uphold the never-give-up spirit when facing difficulties.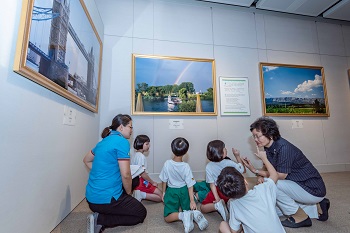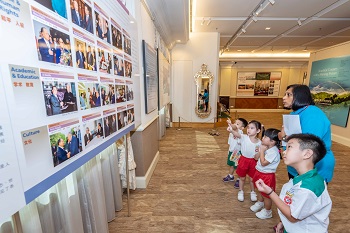 Besides that, the children had also learnt the history of Soka Gakkai's three founding presidents and the importance of peace and having dialogues with others. The teachers used various props to interact with the children, thus giving them better understanding of President Ikeda's peace ideals.
At the end, when teachers asked the children how they felt, they answer with bright sparks in their eyes: "We want peace!" The teachers had certainly planted the seeds of loving peace inside their hearts, and one day they will grow up into people like President Ikeda who loves peace.