Having love for children is the main element in order to establish a humanistic education system. TSS founder Daisaku Ikeda believes that the purpose of education is for the happiness of children and loving children in pivotal towards establishing a humanistic education system.
This year marks the 23rd anniversary of TSS' establishment in April 1995, and in April this year, TSS staff made detailed preparations towards the anniversary celebrations, as an expression of their efforts in upholding Mr Ikeda's educational ideals.
They held a photography exhibition highlighting the 23 years of TSS' endeavours. People who came to TSS were welcome by a "Happy Birthday" banner at the entrance. The various activities there gained the great interest of TSS children towards understanding its history.
From April 11 to 13, the teachers held a special assembly where they introduced the photographs taken by Mr Ikeda. They also helped the children to prepare performances, brightening up the atmosphere in the kindergarten.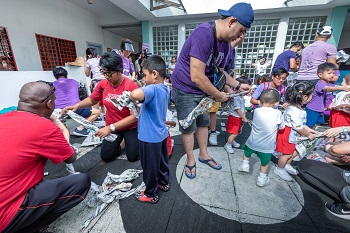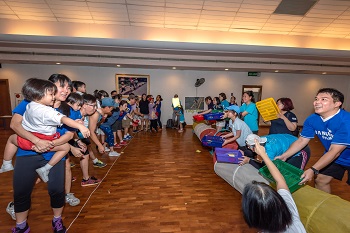 TSS Parents-Children Sports Day
On April 14, TSS held a sports day for its four- and five-year-old children and their parents as one of the activities for the anniversary celebrations. On that day, some 200 children and their parents gathered in the field, joining the teachers who were leading a morning exercise session.
The children and parents were organised into ten groups where they played an "obstacle-clearing course" that required participants overcome one challenge after another to advance. Parents and children had to work together, having great fun while doing so, with laughter permeating all corners. Joyous scenes of parent-child harmony where abound, and priceless memories were created.
TSS principal Madam Lye Loy Hou said that everyone was a winner on that day, because the most precious thing was the sporting spirit that they showed, adding that everyone there is a part of the TSS family. She expressed her hope that the sports day will become an unforgettable memory.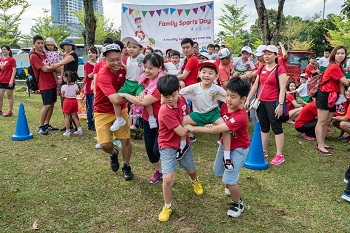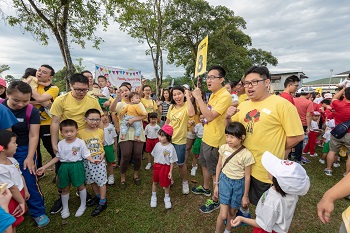 In her speech, member of TSS Board of Directors Dr Angela Ng stressed that a healthy family begins from one person, and even more important than winning or losing was whether or not one could overcome the obstacles in front of them.
In the end, besides the grand prize, TSS also presented awards for Courage, Friendliness, Teamwork, Cooperation, Friendship, Harmony and Creativity to the respective winners. The prizes included tomatoes, potatoes, carrots, onions and many more, delivering the message that other than exercising, everyone should also keep an eye on their daily food intake in order to stay healthy.