From October 14 to December 10, 2017, SGM organised the tenth SGM Art Collection Exhibition at Wisma Kebudayaan SGM (WKSGM), featuring 53 pieces of artworks chosen from SGM's art collection. Entitled "Awakening of Love – The Female Figures as Subjects in Art," the exhibition was a continuation of the previous SGM Art Collection Exhibition "Discovering Beauty."
Divided into four sections – "Myth and Legends: Nobility"; "Motherly Love: Nurture"; "Devotion: Passion" and "Individual Uniqueness: True Self" – the exhibition was held with an objective to create a loving and caring society and to counter the general sense of apathy and helplessness prevalent in the modern world and direct viewers back to true humanity.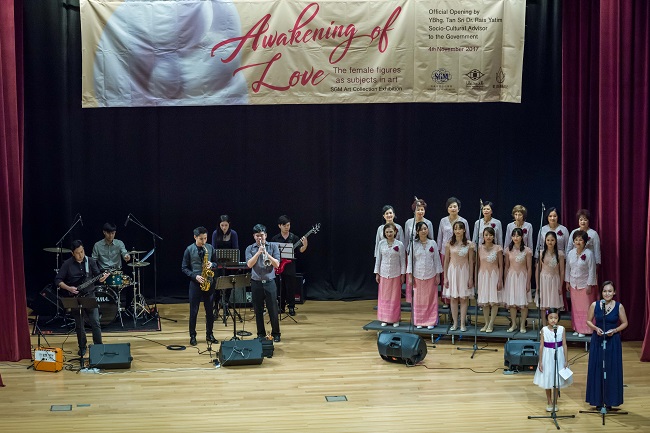 Chosen from different eras and cultural background, the artworks were imbued with various inner feminine qualities of humankind, expressed through the female figures – a symbol of humankind that nurtures life. The works also consisted of masterpieces by renowned artists such as Li Zijian, Kanak Chanpa Chakma, Zhang Daqian, Huang Yao, Salvador Dali, Tay Moh Leong and Tan Tong.
In his welcoming remarks, SGM President Michael Kok mentioned that as SGM believes that culture nurtures people from within, the members have been carrying activities based on the principle that true art and culture seek to reach out, communicate and bring people together. He also quoted SGI President Ikeda's words, "…if we look at the world with a love of life, the world will reveal its beauty to us."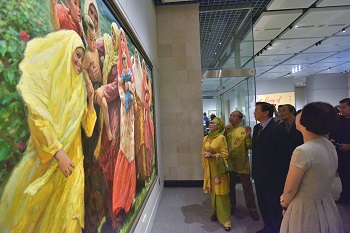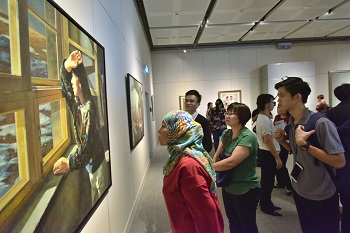 On hand to open the exhibition was the guest-of-honour YBhg Tan Sri Dr Rais Yatim, Socio-Cultural Adviser to the government of Malaysia. In his opening speech, Tan Sri Rais lauded SGM for organising heart-touching events that bring people closer together, promote mutual understanding and build culture and art. He pointed out that while there are conflicts in politics and religions, "culture and art are non-conflicting." Instead, culture and art, together with our values, bring people together.
Tan Sri Rais also mentioned that, compared to the West, "we have not given to local artists the boost, assistance and recognition that they deserve." He spoke about art and culture depicting civilisation and the culmination of civilisation shown in art. As such, he called for more local artists to create great works of art and make our nation known worldwide. He also hoped that SGM and the government can work together to carry out art-related activities to bring people together by opening each other's inner feelings of humanity.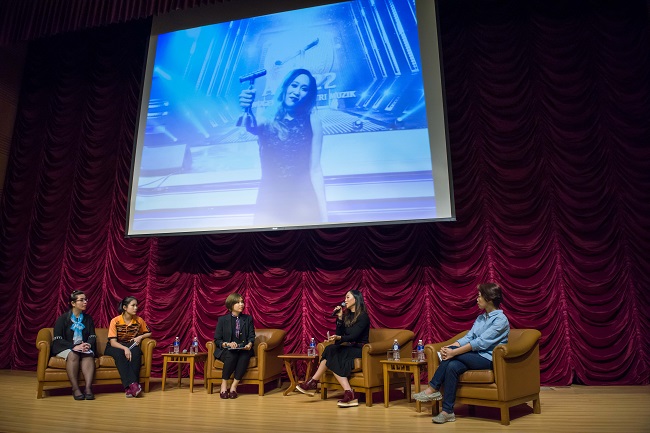 This exhibition has also become part of the KL Biennale programme organised by the National Art Gallery Malaysia under the theme "Alami Belas" or "Be Loved" which exuded compassion, sincerity, mutual respect, solidarity, hope and sustainability. In conjunction with the exhibition, two sessions of sharing – entitled "Listen to HER story" – with outstanding female artist and various SGM members were later held.
After viewing the exhibition, Tan Sri Rais also visited the "Our Beautiful Earth" photography exhibition by President Ikeda and "In Pursuit of Peace" exhibition at the SGM Mentor and Disciple Peace Hall.