From November 18 to December 10, 2017 SGM hosted a solo exhibition of veteran Malaysian artist Cheung Pooi Yip at the Soka Exhibition Hall in Wisma Kebudayaan SGM. Entitled "Reflections from My Heart: Solo Exhibition of Cheung Pooi Yip", the exhibition, featuring over sixty artworks, was a culmination of more than sixty years of hard work, a testament to ceaseless perseverance and an undying love for art.
During the opening ceremony on November 18, the President of Soka Gakkai Malaysia, Michael Kok mentioned that "one will sense the artist's overwhelming energy and vast life condition when viewing his art…which radiates and reveals not only the artistic skilfulness he possesses but also the rich, broad-hearted spirit and pure inner strength in portraying the beauty and intricacies of life."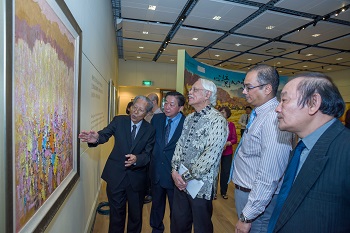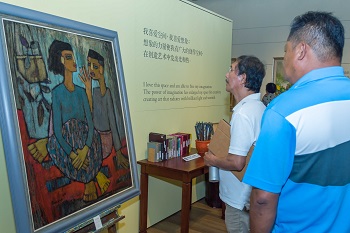 Following that was a speech by former chairman of National Art Gallery Board of Trustees, YBhg Tan Sri Kamarul Ariffin bin Mohamed Yassin. In his speech, he took Cheung to be his younger brother as he also went through and overcame many similar struggles in his pursuit of his studies. He also read out a poem he composed for Cheung, extolling the latter's indomitable spirit and sincere contributions to the country.
Cheung has indeed won in his pursuit of art, overcoming numerous obstacles and setbacks. His father died when he was at the tender age of 13, and he had to stop schooling to take up the heavy responsibility of caring and providing for his entire family. To improve himself, he practises writing, and studies literatures, poems and philosophy. Now, at the ripe age of 81, with a remarkable progressive spirit, he is still actively involved in artistic and creative pursuits and maintains high expectations of his own artworks.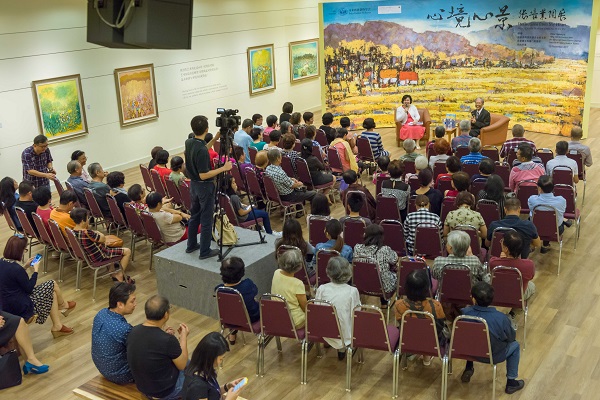 Most of these pieces are recent works and include the portrayal of the world around him. They are imbued with his passion and praise both life and fellow human beings.
In conjunction with the exhibition, an art catalogue entitled "Reflections from My Heart – Cheung Pooi Yip's 60 Years of Creation" was launched. On the same day, a "Meet-the-Artist" session was also held.