On December 9 and 10, 2017, SGM held a Nationwide Great Wall Group Training Course at the SGI Asia Culture and Education Centre (SGI ACEC). 412 members of the group participated in this event in high spirits. With the motto of "Great Wall Group: Upholding the Shared Struggle of Mentor and Disciple," all participants engaged actively in the exchange and study sessions.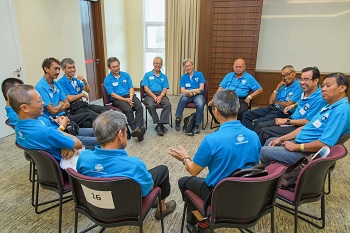 SGM General Director Koh Sia Feai shared on the importance of shakubuku (Sharing Buddhism) and propagating the Law, both of which are acts of great good. He pointed out that dedication to shakubuku is the key to achieving absolute happiness and attaining Buddhahood.
Goh Meng Wee from Johor and Chan Soon Lee from Selangor shared their moving experiences. Small group discussions were also conducted where participants shared victory reports of introducing people to Nichiren Buddhism, as part of SGM's efforts in achieving 20,000 Professors of Happiness in 2018. This is followed by a study session on the "Great Mountain" chapter of The New Human Revolution to learn about President Ikeda's spirit in propagating the Law.
On the second day, SGM Great Wall Group Leader Tan Chee Wah presented the group's directive for development before he witnessed the hand-over of the group flag by Johor representative to the next host of the nationwide meeting, which will be Kuala Lumpur.
In his speech towards the end of the meeting, SGM Men Division Leader Dr Boey Chiong Meng highlighted the contents of President Ikeda's congratulatory message to the Great Wall Group exchange on June 25, 2016. He reminded all to strive with great joy when faced with difficulties and to chant resounding daimoku with the conviction that "no prayer will go unanswered." He encouraged everyone to be courageous in fighting thoroughly in creating a victorious history in life.