Last year, the SGM Kuala Lumpur Culture Centre near Jalan Imbi in the city centre underwent renovations. Now, a first-of-its-kind members service centre has opened at the centre, focusing on providing member care and services. This members service centre was officially opened on December 3, 2017, with SGM General Director Koh Sia Feai officiating the ceremony. Over 50 SGM representatives were in attendance as well.
The SGM Kuala Lumpur Culture Centre was first opened on January 1, 1984. It has played a significant role in the history of the Kuala Lumpur kosen-rufu movement. From 1984 till 2001, it also housed the SGM Publications Department. It has now entered a new journey, becoming SGM's first members service centre.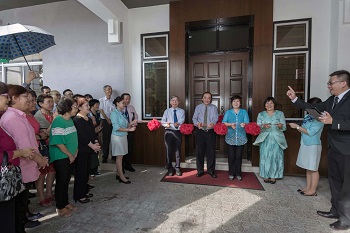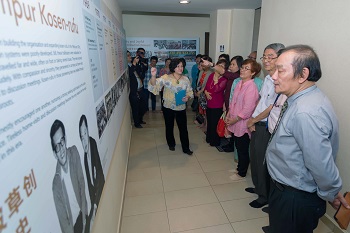 In his speech, Mr Koh noted that members service centre was set up to provide services to SGM members the public. He urged everyone to encourage members to bring new friends to this centre to enable them to learn more about SGM. This will enable the centre to give full play to its new mission and create greater value.
The following day, December 4, the members service centre was opened to the public. This one-stop service centre provides services such as personal guidance and dialogue, a reference area, rooms for chanting daimoku, a sales centre, reading and resting area, a vending machine selling drinks and exhibitions on the history of various aspects of kosen-rufu in Kuala Lumpur.
The centre exudes a warm, family-like atmosphere. Visitors from overseas can also make enquiries and receive various forms of assistance at this centre.