On July 9, an all-leaders meeting celebrating these important occasions was held at the SGM Culture Centre and broadcasted to 27 venues throughout our country. Representatives of the Junior Division, High School Division and Student Division, the successors of kosen-rufu, were also invited to attend this meeting.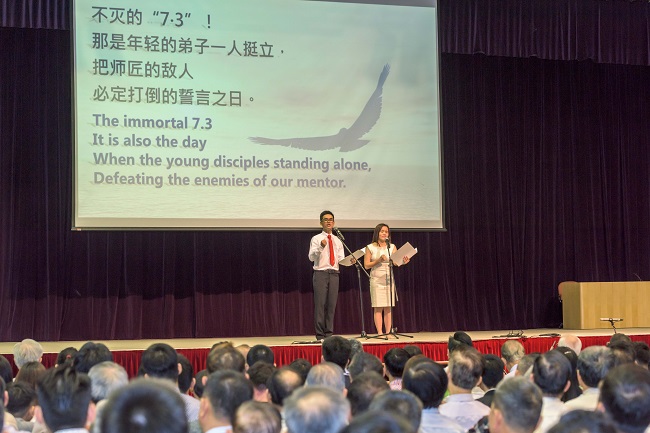 Kuala Lumpur
Student Division members Yap Chien Chin and Cheok Sin Nee recited a poem by SGI President Ikeda that spoke of July 3. In this poem, President Ikeda lauded the spirit of SGI members who advanced in accordance with the immortal spirit of mentor and disciple. SGM Selangor youth leaders Tan How Kian and Long Soi Lee shared experiences on advancing kosen-rufu in their state. How Kian spoke about overcoming family disharmony, financial difficulty and illness through striving in faith with his performance as Shin'ichi Yamamoto in SGM Selangor's The Human Revolution Musical in 2010 as his prime point. Soi Lee spoke about how both of them worked to conduct happiness sharing meeting in their areas that created waves of expansion in SGM Selangor, and also inspired other states.
SGM General Director Koh Sia Feai spoke on the importance of faithfully walking the path of mentor and disciple. This path is the most sublime path in life, and President Ikeda has shown through his example how this path can transform the fate of millions. He urged the audience to advance along this path, put President Ikeda's guidance into practice and create an organisation that truly befits the motto of "Malaysia, the role model of the oneness of mentor and disciple.
Several states, such as Melaka, Sarawak, Pahang and Perak held celebratory events to commemorate SGM Junior Division Day.
| | |
| --- | --- |
| | |
| Perak | Pahang |
| | |
In Melaka, some 60 JD members and coordinators held a bazaar at the SGM Melaka Culture Centre on July 2. They sold various foodstuffs, such as pastries, pasta and drinks, and also handicrafts. Young and old interacted cheerily with each other, providing valuable life experience for the young members.
On July 9, SGM Pahang JD put up a puppet show based on President Ikeda's The Princess of the Desert Kingdom, to convey the message that as long as we strive to overcome our weaknesses, we can achieve victory in the end. In Perak on July 16, JD members studied the Aesop fable "The Man, the Boy and the Donkey" while on July 30, SGM Sarawak JD members met to study the Gosho "On Persecutions Befalling the Sage", recite poetry and tell stories, in order to forge their own courage.