The biennial Run for Peace is back! This year, the seventh edition of Run for Peace was held in 19 locations in 12 states throughout Malaysia. All in, over 80,000 peace-lovers took part in Run for Peace events held in Kedah, Penang, Perak, Kelantan, Terengganu, Pahang, Selangor, Melaka, Johor, Sarawak, Sabah and the Labuan Federal Territory.
"Nothing is more precious than peace. Nothing brings more happiness. Peace is the most basic starting point for the advancement of humankind." These famous words by SGI President Daisaku Ikeda represent the spirit in which Run for Peace has been organised over seven editions in 12 years.
Staring as one single run with a modest 1,500 participants in Klang, Selangor, back in 2005, the Run has since grown to an event attracting tens of thousands in multiple locations around the country. The seven editions of the Run have drawn a combined total of over 250,000 peace-lovers running and striving for the sake of peace. Most of those who have participated are young people from all walks of society, bringing with them a wave of peace created by the power and passion of youth.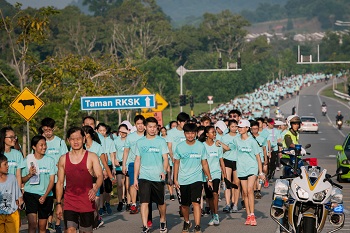 Melaka
Registration for the Run began in early April, and within six weeks all 80,000 slots were taken up, with 13,000 signing up for the Selangor Run is just ten days. This represents Malaysian society's recognition of Run for Peace as an event that not just promotes good health, but an important torch-bearer of peace and hope in society.
This year's Run for Peace is all the more significant, as 2017 marks the 60th anniversary of second Soka Gakkai president Josei Toda's Declaration Calling for the Abolition of Nuclear Weapons, which he made on September 8, 1957 at the Mitsuzawa Stadium in Yokohama, Japan, on the occasion of a Soka Gakkai youth sports meet. He called upon his youthful successors to continue his work of eradicating nuclear weapons and bring lasting peace for humanity into the eternal future. This Declaration marks the starting point of the SGI's peace endeavours.
Melaka
Run for Peace in Melaka took place on July 23, and was flagged off from Dewan Tun Ali in Bukit Katil, Melaka. Jeffri Munir, the director of the Melaka office of the Ministry of Tourism and Culture and his wife were present to flag off the run.
SGM Melaka chairperson Sheow Gee Eng presented books written by SGI President Daisaku Ikeda to Mr Jeffri as a token of appreciation. Mr Jeffri and his wife finished the entire 8-kilometre run together with the participants.
Kedah
| | |
| --- | --- |
| | |
| Alor Setar, Kedah | Langkawi, Kedah |
| | |
SGM Kedah organized two Run for Peace events, one on July 21 at Alor Setar and the other on August 4 in Langkawi.
In Alor Setar, state executive councilor Dato' Dr Leong Yong Kong called upon the youth to accept the challenge of peace-building and create a world free from nuclear weapons. He welcomed the UN's adoption of the Treaty on the Prohibition of Nuclear Weapons on July 7. He noted that the world still lives under the shadow of nuclear annihilation, but the treaty has become a brilliant beacon. He said that SGM's Run for Peace is important in realising peace in society. SGM has consistently promoted activities to promote peace, in accordance with President Ikeda's guidance.
The Langkawi Run was flagged off at the parking lot of Kompleks Lada. The "Everything You Treasure" exhibition was also set up at the area to raise awareness of abolishing nuclear weapons.
Selangor
Selangor, the site of the first-ever Run for Peace in 2005 and the only state to have held it seven times, attracted 13,000 participants for its Run on July 23. This is almost ten times the number of participants in its maiden Run. The peace-lovers gathered at the Taman Klang Jaya field near the SGM Selangor Culture Centre for a day of working for peace.
Selangor state executive councillor YB Amirudin Shari was the guest-of-honour at this Run, and he arrived to a filed decorated with artefacts depicting sunflowers, windmills and lighthouses, adding an air of peace-filled festivity to the event. In his speech, he lauded SGM Selangor's achievement in attracting 13,000 participants in just ten days and its commitment to promoting peace and non-violence. The presence of so many people for this event was a good sign that people cherished peace and will stand up for peace.
The organisers also set up booths for face-painting and photography, while live bands and clowns entertained the participants. It was truly a carnival of peace.
| | |
| --- | --- |
| | |
| Selangor | Perak |
| | |
Perak
Perak's Run, held on July 23, attracted some 3,200 participants. The starting and ending point of this third Run for Peace in the state was the SGM Perak Culture Centre in Ipoh.
In his speech, SGM Perak Chairman Lai Soo Ha stressed how important peace is, and after suffering the tragedy of two world wars and numerous other conflicts, we must treasure peace. He stressed that it is the mission of the SGI to establish lasting peace for humanity through promoting respect for the dignity of life.
The guest-of-honour was Perak state executive councillor Datuk Dr Mah Hang Soon. In his speech, he praised the participants as "peace warriors", and praised SGM for its efforts in promoting peace and contributing to the betterment of society and the country.
There were also various side activities that enlivened the atmosphere.
Terengganu
The very first of the Run for Peace events kicked off in Kuala Terengganu on July 14, at Dataran Pulau Warisan (Heritage Island Square). Over 1,500 people gathered for the Run here, which was flagged off by Terengganu state assembly Speaker YB Dato' Mohd Zubir Embong, who was representing Menteri Besar YAB Datuk Seri Ahmad Razif Abdul Rahman.
Dato' Mohd Zubir said that this event is a good way to foster unity among people and promote a healthy way of living. He stressed that it is crucial that we respect each other's culture and way of life. He congratulated SGM on holding this event which has attracted recognition and participation from society.
SGM Terengganu chairman Khor Wan Koon thanked all those who were present and asked for continued support for future Run for Peace events. Also present at the Run was Terengganu MCA chairman Dato' Toh Chin Yaw, Kuala Terengganu MCA secretary Toh Cheng Seng, Terengganu Chinese Assembly Hall chairman Tan Beng San and SGM Council Member Lim Tee Yen.
| | |
| --- | --- |
| | |
| Terengganu | Kelantan |
| | |
Kelantan
Kelantan's Run for Peace, held on July 21, was flagged off from SMK Zainab 1 in the state capital Kota Bahru, where over 1,400 people took to the streets. This is the third time the state has organised this Run, and its participation is the highest yet for the state. The guest-of-honour was <<<to fill up>>>.
Pahang
At the Taman Gelora field in Kuantan, some 4,300 advocates of peace gathered in the morning of July 23 for their 7.8 km journey of peace. The Pahang run was flagged off by Kuantan Municipal Council president Datuk Fadzilla Salleh.
In his speech prior to the flag-off, Datuk Fadzilla praised SGM for the positive response that Run for Peace has received from the public and its effectiveness in creating a culture of peace. It is an activity that can improve the quality of humanity and encourages us to respect the sanctity of life. In a world vulnerable to conflict and violence, humanism has become even more important. SGM's contributions in promoting peace, culture and education has gained recognition in society.
In addition to the run, the was the "Seeds of Hope" exhibition on display, children's corner and photo booths to make for a fun-filled and educative day. Participants left with beaming faces as they formed bonds of friendship with people around them.
| | |
| --- | --- |
| | |
| Pahang | Tangkak, Johor |
| | |
Johor
Run for Peace in Johor was held in two venues, Tangkak and Kota Iskandar.
The Tangkak Run on July 22 was flagged off from SJKC Chi Ming 1, where 6,000 people took to the streets for a 7-km run. The run was flagged off by YB Datuk Ir Dr Hj Hamim Samuri, Deputy Minister of Natural Resources and the Environment. In his speech, he noted that this is his first time attending Run for Peace, and he lauded its efforts at promoting peace in a multicultural society like ours. He congratulated SGM Johor for its efforts in organising this run and bringing people together for the sake of peace.
He noted that organisations like SGM, working with other like-minded organisation and the government, enable people to get along together happily and respect each other, enabling our country to enjoy peace and prosperity since independence. He also praised SGM for its efforts in promoting the flourishing of humanism through peace, culture and education activities. This is especially important in this new era where violence and unrest are commonplace. He further said that the large turnout for Run for Peace shows that many people truly desire peace, and that peace must begin with us.
In Kota Iskandar, the Johor state administrative capital, over 12,000 peace-lovers gathered at Dataran Mahkota for Run for Peace on July 22. Various booths and side activities were also prepared for the participants' enjoyment, such as photography areas and face-painting. SGM Johor also put up the "Everything You Treasure" anti-nuclear weapons exhibition.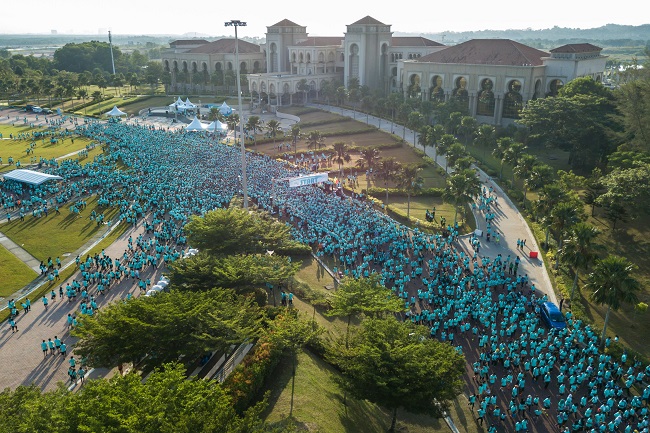 Johor Bharu, Johor
In his speech, SGM President Michael Kok said: "We have all gathered here for the sake of peace. I thank everyone for your support." He further said that not only does Run for Peace promotes peace, it also promotes a health family lifestyle. He also quoted President Ikeda, saying, "Nothing is more precious than peace," stressing that without peace, there cannot be happiness.
The guest-of-honour was Johor state tourism, domestic trade and consumerism chairman Datuk Tee Siew Kiong, who attended as Johor Menteri Besar YAB Dato' Seri Mohamed Khaled Nordin's representative. In his speech, Datuk Tee stressed that the people of Johor are peace lovers and have always treasured peace. We have the responsibility to uphold peace and respect and compassion are key.
He expressed agreement with the Run for Peace motto, "Peace Starts with Me", saying that this is also what the people of Johor believe in. He also announced that the Johor state government will be donating RM10,000 to SGM as a show of support for Run for Peace.
Penang
Penang held its Run for Peace on July 30 at the Batu Kawan Stadium on the mainland. Some 4,500 peace-lovers filled up the streets of the area. SGM Penang vice-chairman Tan Kah Bin flagged off the participants from the stadium.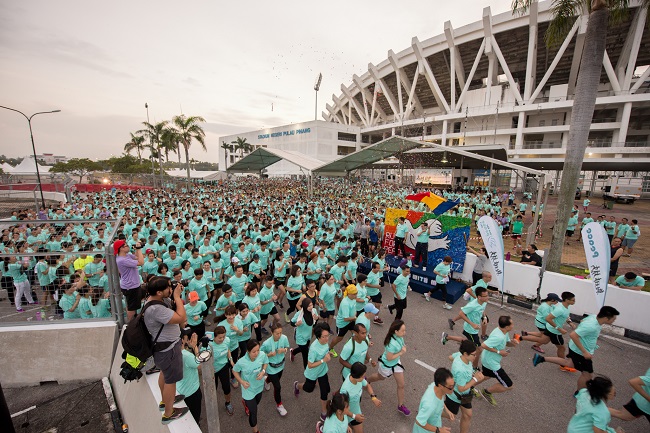 Penang
Sabah
Sabah held five Run for Peace events from July 16 to August 6. The first of these events took place in Keningau at the Keningau Sports Complex. Some 1,300 people joined this event, which was flagged off by Keningau District Officer Yusof Osman.
The following week, July 23, saw two events, at Kota Kinabalu and Sandakan. The Kota Kinabalu Run, which attracted 6,000 people, was flagged off from the Universiti Malaysia Sabah Sports Complex by Robert Lipon, head of the Hygiene and Environmental Health department at the Kota Kinabalu City Council. He was representing Mayor Datuk Yeo Boon Hai. The Sandakan Run saw a participation of 1,300, and was flagged off at the Sandakan town field.
The final two of the five Run for Peace events were held on August 6, in Lahad Datu and Tawau. The Tawau Run saw over 1,500 participants gathering at the Tawau town field for the flag-off. In Lahad Datu, some 1,000 people were flagged off from the Lahad Datu Sports Sports Complex. All in, Sabah saw over 11,100 people running for peace.
| | |
| --- | --- |
| | |
| Keningau, Sabah | Sandakan, Sabah |
| | |
Federal Territory
The Labuan Federal Territory held its Run for Peace on July 30, starting and ending at the Labuan International Sea Complex. Eight hundred people took to the streets around Labuan in order to promote peace.
Sarawak
Two Run for Peace events were held on July 23 in the state, one in Kuching and the other at Sibu, which is holding the Run for the first time.
The Kuching Run, with a participation of 3,000, was flagged off from CityOne Megamall by Major (R) Datuk Peter Runin, political secretary to the Minister of Human Resources YB Dato' Seri Richard Riot Jaem. Also present was CityOne Megamall manager Stephen Long and SGM Sarawak honorary secretary Tay Thing Swee.
| | |
| --- | --- |
| | |
| Labuan | Sibu, Sarawak |
| | |
Mr Tay expressed his appreciation to the mall management for graciously allowing the use of the venue, and to all present for their efforts in making the Run a success. Datuk Peter Runin stressed the importance of fostering people who desire peace in order to move humanity towards happiness. Without a strong awareness of peace, it is easy to be influenced by the conflict and violence that we see in the media. Only by transcending differences in culture, religion and beliefs can people move forward.
There were also culture performances to enliven the atmosphere.
Sibu's maiden Run for Peace got underway at the Tun Ahmad Zaidi Stadium. This stadium is built on a site that used to be a World War 2 Japanese airbase. A site that was once used to stage war is now being used to spread peace through Run for Peace.
The guest-of-honour was Sibu Resident Hii Chang Kee. In his speech, he expressed concern over the prevalence of violence in forms such as bullying and conflict. He expressed his support for the SGI's firm belief that everyone deserves to be happy, and that violence is never a solution. He asked all present to stand up for peace.