As a marine biologist and conservationist, Jonathan Phu conducts scientific research on sea turtles to understand their population status and distribution. His studies focus on how the community and government organisations can help to protect these charismatic marine species. He is also a National Geographic Explorer and has given several speeches internationally. In 2019, he was invited as a guest speaker by the National Geographic Society in Washington DC, US. Recently, he became one of the session leads in the National Geographic Explorers Festival 2021.
For Jonathan, the vast ocean is his second home, and he always maintains a close relationship with local fishermen and the indigenous communities across the state of Sabah. Together they would sail into the open ocean to gather essential data, sometimes using drones as his tools. His job also includes analysing the data and ensuring that the sea turtles are protected and not threatened by human intervention.
He loves his job very much, and he is determined to change people's lives and the environment through his research and own example.
Ever since childhood, mathematics and science have been his strongest subjects. He used to carry out experiments to quench his curiosity. It was in Form Six that the desire to study the ocean arose. Therefore, he enrolled at Universiti Malaysia Sabah to study marine science as his first choice and graduated with bachelor's and master's degrees.
Jonathan was a free-thinker and only believed what science could prove. Therefore, when he heard about Soka Gakkai Malaysia (SGM) from his partner, he doubted and told her he needed to "research" SGM. His partner would ask him to chant, and he reluctantly followed suit.
One day in September 2019, Jonathan went to the sea for field sampling as usual. It was during the monsoon season, and the waves swelled to twice as high as the ship he was on! Facing the formidable force of Mother Nature, he suddenly realised that a person has only limited strength. The ship almost capsized, and he could only think of how he would survive. Nam-myoho-renge-kyo came into his mind. 
Recollecting the moment, he said, "Even though we have made enough safety precautions, it was still to no avail. A great captain can still fail." He wondered if he started chanting then, would it make any difference?
Putting this to the test, he started chanting sincerely and thus responded to his girlfriend's wish for his happiness. He survived the incident. He said, "Chanting calmed me down. I did not panic when facing crises. Instead, I manifested wisdom and steadiness to overcome them." Chanting has helped him overcome his fear and sense of powerlessness towards nature. He can overcome every crisis with composure. That was the conclusion of his experiment.
Besides chanting and performing gongyo, Jonathan, who was then staying in a rented house with SGM student division members, started to join SGM activities. Before this, he wasn't satisfied with teachings that only teach people how to attain happiness for themselves. He believed life should have a higher purpose. From SGI President Daisaku Ikeda's published works, he learnt the ideal way of living – contributing to the happiness of others.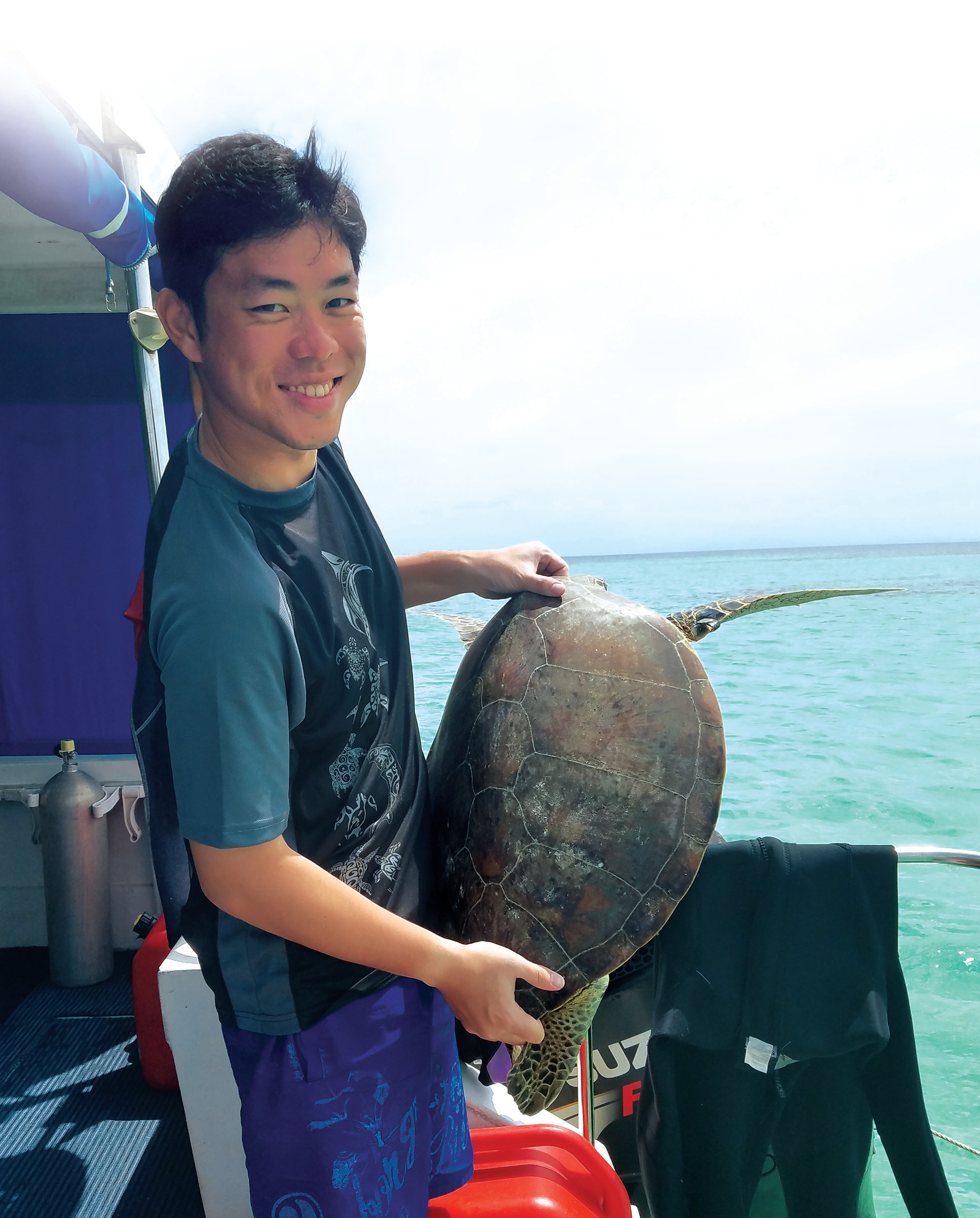 "Exerting utmost efforts for the sake of others, contributing to the welfare of others, and dedicating my life to these goals is to live a fulfilling life of noble values that will benefit humanity." Jonathan believes this is the life he wants to live and is determined to pursue higher goals and dreams.
During the movement control order (MCO), he studied various Soka Gakkai publications and the philosophy of the Lotus Sutra and gained a better understanding of Soka Gakkai's ideals. The ideals of respect for the dignity of life and harmonious coexistence with all living beings resonated with him. 
Jonathan's partners in work come primarily from the lower rungs of society, where almost all of them live lives filled with hardship and lack formal education. Some do not have official identification, and people might not even notice when they die.
Jonathan would always pray for their safety. During the MCO, he would constantly encourage them, ensuring they were fine. As all marine life have their roles to play, Jonathan also sees his working partners as the most respect-worthy and important people.
From his research on sea turtles, Jonathan also realised that the relationship between humankind and nature is what Nichiren Buddhism teaches: that all living beings coexist mutually. Our actions will affect the environment.
He recalled arriving at a beautiful island for research, and he was shocked by the local people's ways of living. The fishermen used hand-made bombs to harvest large numbers of fish quickly to earn more money. But this method brought great harm to the environment. What's worse is that they teach this method to their future generation. 
Only through changing people's mindsets can we resolve the conflict between humanity and nature. That's why Jonathan never stops sharing the idea of coexistence. His challenge is to protect the ocean ecological system and, at the same time, make sure that the fishermen can still make a living, eventually achieving a win-win situation.
Jonathan further said that holding dialogues with them is a difficult task. If he wants to continue preserving the ocean's ecology, he needs a correct guide and direction. He believes that encountering the Mystic Law has enabled him to be more confident and have concrete goals on the path of ocean exploration.
Through Buddhism, he can constantly explore his limitless potential and the ocean's boundless wonders. When a person has excellent ideals, he will advance with perseverance and transform the world, no matter how small his actions seem. 
Note: The movement control order (MCO) is a series of restrictions put in place by the Malaysian government to curb the COVID-19 pandemic.
Adapted from the Aug 2021 issue of COSMIC.