In welcoming the young men's division's (YMD) and young women's (YWD) division's 70 th anniversary commemorative meetings, SGM youths achieved 21,056 dialogues within 64 days. On July 10 and 11, 164 online meetings were held throughout the whole nation with over 7,000 youths and Soka friends attending. These two divisions were founded by second Soka Gakkai president Josei Toda in 1951, on July 11 and 19 respectively. In the meeting, the youths looked back at the profound meaning behind the establishment of these divisions and its visions towards the future.
SGI President Daisaku President Ikeda gave his heartfelt congratulations to the youths by sending a message, urging the youths to polish their faith, surpass him and become outstanding successors. He also pointed out that, "This solidarity of youth forged by an invincible spirit is itself, the light of hope. It is the pillar of peace. And it is the very power that shapes the future."
| | |
| --- | --- |
| | |
| | |
| Negeri Sembilan | Perak |
| | |
In these meetings, the participants also watched a video featuring three youths: YWD member Lim Chia Hui who shared about overcoming stress in studies and encouraging her twin sister who suffered from acute myeloid leukemia; Choong Kai Yi, also from the YWD, who spoke about her struggles with depression; and Jonathan Ng Kian Cho, who shared his challenges in conceiving a child, the failure of his company and being hounded by creditors. Their experiences in overcoming all adversity greatly inspired the participants.
The youths also conducted small group sessions that discussed "My 10-Year Plan." The 10-year plan includes the outlook, aim and actions to be carried out in the next 10 years. Some of the youths even shared their experiences and feelings after engaging in dialogues while some shared their views on faith and happiness. The youths displayed fighting spirit to overcome the difficulties they are in and always move forward.
| | |
| --- | --- |
| | |
| | |
| Kuala Lumpur | Penang |
| | |
Through pre-recorded videos, YMD leader Tan Jun Kong and YWD leader Lee Kam Yit called upon the participating youths to impart hope to society through prayers and action infused with the spirit of youth.
The participants also deepened the bond of mentor and disciple through singing the song "Eternal Journey with Sensei" and resolved to write their own youthful dramas of human revolution to create a new era of hope with their youthful passion and strength.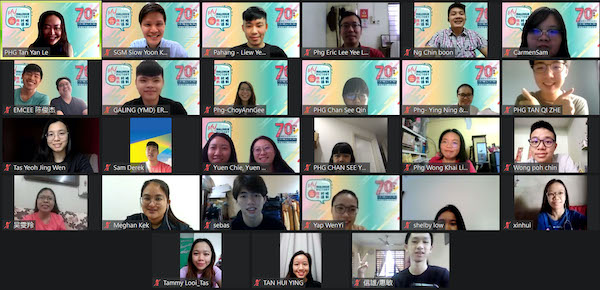 Pahang