SGI President Daisaku Ikeda wrote: "Every single thing in existence is worthy of supreme reverence. Nature is not something for human beings to exploit as they see fit, solely for their own interests. Both nature and humanity are part – and at the same time complete expressions – of the life of the universe. To destroy the natural world is to destroy human life." With this spirit in mind, members of SGM Kuala Lumpur's Region 2 (which covers Petaling Jaya, Sungai Buloh and Ijok) participated in the "Trees for Life" tree-planting campaign at the Bukit Gasing Forest Park in Bukit Gasing, Petaling Jaya on June 29, 2013.
The campaign was jointly-organised by the Petaling Jaya City Council (MBPJ) and Landskap Malaysia. Landskap Malaysia is a not-for-profit organisation that aspires to create a Malaysian society ingrained with a culture that loves the environment and in particular the Malaysian landscapes as an invaluable national asset and heritage.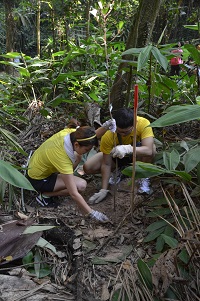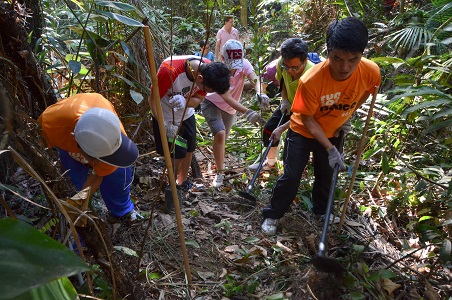 For this campaign, SGM was invited by Landskap Malaysia. Close to 30 SGM members and their friends formed part of a 180-strong volunteer team that included various organisations such as Starbucks Malaysia, Yayasan Salam, SEGi College and local schools. The patron of Landskap Malaysia is Tun Jeanne Abdullah.
MBPJ was represented by its landscape department staff while Landskap Malaysia was represented by its general manager Othman Suleiman and senior technical executive Fairuz Mohd Musa. The volunteers helped to plant some 150 saplings of various species of forest trees. The trees were planted at different locations of the forest park. These trees were chosen because they are hardy trees that require little maintenance and also help to mitigate greenhouse gas emissions.
Volunteers expressed their joy at being able to participate in this campaign which aims to add to the diversity of the forest and contribute to sustainable development. The entire campaign was carried out in a friendly and cooperative atmosphere as the volunteers helped each other out to dig the soil and plant the trees. The growth of the trees will also be monitored to ensure that they are doing well. 
video clip