On November 26, 2012 the Quranic Youth Club of the International Islamic University Malaysia (IIUM) organised an interfaith dialogue at the main auditorium in the IIUM campus in Gombak, Selangor in collaboration with SGM, Hidayah Centre and the Selangor Islamic Religious Council. Based on the theme "The Concept of Science and Religion," the dialogue was aimed at exploring the views of different religions on the linkages between religion and science and how they can be used to solve social issues. This interfaith dialogue also aims to provide a platform for strengthening interfaith engagement by eliminating prejudices, building trust and friendship and finding ways in embracing different understandings in search for global peace and harmony.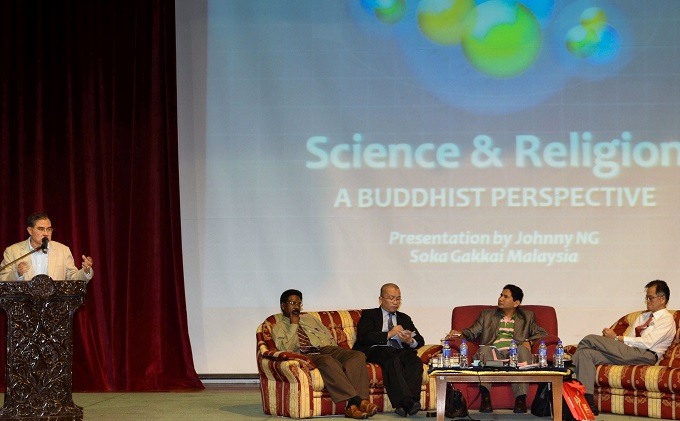 Representing SGM as a panel speaker was Johnny Ng Teck Sim, who is SGM Vice-President. The other speakers were Muhammad Nicholas Sylvester (Chairman of Hidayah Centre, a support centre for new Muslim converts), Chew Phye Keat (Chairman, Fellowship of Evangelical Students Malaysia) and M. Bala Tharmalingam (Deputy President, Malaysia Hindu Sangam) who presented viewpoints based on Islam, Christianity and Hinduism respectively.
The speakers also spoke on how closely religion is related to science, how religion contributes to the development of science and how each field affects and influences the other. They also touched on when such influences began to take place and the dangers these influences may lead humankind to should we think that we would have no need for guidance or wisdom from religion. Generally, all of the speakers agree with Albert Einstein's statement: "Science without religion is lame, religion without science is blind."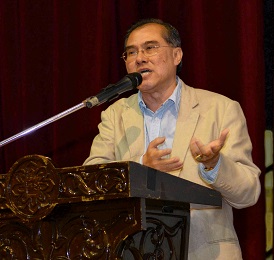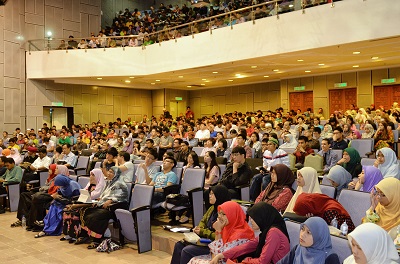 In his speech, Johnny Ng spoke of the differences in how science and Buddhism work. Representing Buddhism, in particular Nichiren Buddhism, he introduced the practice and ideals of the SGI and elucidated Buddhist concepts such as the oneness of body and mind, the oneness of life and its environment and dependent origination. Based on these concepts, he drove home the message that all of us are truly one. He also pointed out that science and technology have taken precedence over humankind's spiritual development and urged for a way to transform a "parasitic" society to a "symbiotic" one in order to ensure sustainability in our life.
About 800 students of IIUM and representatives from various religious groups including SGM attended this dialogue.