On October 23 and 24, the Institute of Oriental Philosophy (IOP) and the Centre for Civilisational Dialogue (CCDUM), University of Malaya (UM) co-organised a symposium titled "Intercivilisational Dialogue towards Peace, Harmonious Coexistence and Sustainability", at the university's Academy of Islamic Studies. The symposium was also sponsored by the Department of National Unity and Integration, Prime Minister's Department, and was supported by Soka Gakkai Malaysia (SGM) and UM's UNESCO Club.
This marks the first time the SGI-affiliated IOP has co-organised an event with an institution of higher learning in Malaysia. The IOP, founded by SGI President Daisaku Ikeda in 1962, also celebrates its 50th anniversary this year. The purpose of this symposium is to explore civilisational issues mainly from Islamic and Buddhist viewpoints, in a dialogic manner, with emphasis on upholding shared values and commonalities in finding solutions towards the pressing issues of our times.
| | |
| --- | --- |
| | |
| Prof Datin Dr Azizan Baharuddin's presentation | Prof Yamamoto's presentation |
The IOP delegation was led by its Director, Dr Yoichi Kawada. The other members of the IOP delegation are Prof Dr Shuichi Yamamoto, IOP Senior Research Fellow and Professor of Engineering at Soka University, Japan; Dr Toshie Kurihara, IOP Senior Research Fellow and lecturer in women's studies at Soka Women's College, Soka University; and Dr Hideyuki Matsumori, Research Fellow at IOP.
The first two sessions of the symposium were held on October 23. The first session, moderated by Assoc Prof Dr Shanthi Thambiah who lectures in gender studies at UM, was themed "Sustainability". Prof Datin Dr Azizan Baharuddin, Deputy Director-General, Institute of Islamic Understanding Malaysia (IKIM) and UM professor, spoke about the importance of religion in providing ethical frameworks for the advancement of science and technology. Unbridled scientific and technological advance have led to widespread ecological disturbance in the world. There needs to be a dialogue between experts of various disciplines, such as between the physical sciences and social sciences, and between people who hold religious views and those professing secular/humanist views, in order to generate solutions towards ending our environmental challenges.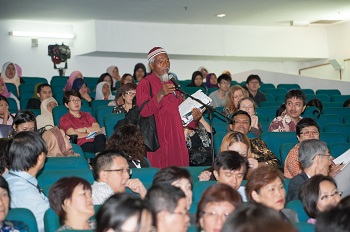 Prof Yamamoto's presentation, titled "Symbiosis and Sustainability through the Lens of Buddhism" explored the possible contribution of Buddhist philosophy towards solving our ecological challenges. In particular, Prof Yamomoto explored how the Buddhist concepts of dependent origination (the interconnectedness of all phenomena), karma (effects of our actions) and the Middle Way (the way or path that transcends polar extremes) can contribute towards sustainability. Human beings ought to move from a "parasitic" relationship with the environment towards establishing a symbiotic one where all living and non-living components of our natural environment can coexist in peace.
The next session, centred on coexistence, was moderated by Prof Dato' Dr Hussein Hj Ahmad, Senior Research Fellow, Institute of Educational Leadership, UM. The first presenter is Prof Dato' Dr Ibrahim Ahmad Bajunid, Deputy President/Deputy Vice-Chancellor, INTI-UC Laureate International Universities. He noted that human beings are the most unique living beings because they possess the power of language and creativity. However, as mankind's knowledge increased, they became arrogant. Such arrogance led to conflicts that are the anti-thesis of coexistence.
In order to overcome the challenges of coexistence, we must move from state-focused coexistence to citizen-focused coexistence. Using ideas from Howard Gardner's book Five Minds for the Future, he stressed that the "respectful mind" and the "ethical mind" will be crucial n the future. Education curriculum should include avenues where people get to celebrate humanity's cultural diversity.
Dr Matsumori from IOP spoke on the ideas of harmony and coexistence as found in the Lotus Sutra from the perspective of Chinese Tiantai Buddhism. He used the Buddhist concepts of the ten worlds (the ten basic life-conditions of the human being) and the mutual possession of the ten worlds, among others, in explaining that Buddhists have a mission to work for the betterment of society, and the world.
Later in the afternoon, in his welcoming remarks, UM Acting Vice-Chancellor Prof Dr Mohd Hamdi Abd Shukor said that this symposium is a significant event in promoting civilisational dialogue that will provide interesting insights. It will also help foster intensive exchange of ideas and encourage dialogue. In his speech, Dr Kawada noted that SGI President Ikeda got the idea to establish the institute during his visit to Bodh Gaya, India in 1961. The following year, the IOP was established.
| | |
| --- | --- |
| | |
| Tun Dr Mahathir Mohamad delivered keynote address | Signing of a memorandum-of-understanding (MoU) between the IOP and the CCDUM |
In his keynote address, former Prime Minister Tun Dr Mahathir Mohamad noted that he was happy to come to deliver the address as peace was something close to his heart. He noted that we live in a world where war is not a crime. He also shared how Malaysia has successfully avoided conflicts with her neighbours, and used dialogue, negotiation and arbitration to overcome the differences. He expressed his hope that this symposium will a step forward towards creating an era where wars will be forbidden.
Later, Tun Dr Mahathir and Prof Dr Mohd Hamdi witnessed the signing of a memorandum-of-understanding (MoU) between the IOP, represented by Dr Kawada and the CCDUM, represented by its Director, Assoc Prof Dr Raihanah Abdullah.
The second day began with a session themed "Gender" moderated by Prof Datin Dr Rahimah Ahmad, from the Faculty of Education, UM. Dr Toshie Kurihara of the IOP spoke first on "Buddhism and Women from the Viewpoint of Soka Gakkai International". She spoke on the discrimination against women in traditional Buddhist teachings, and how Nichiren's revolutionary view on the equality of men and women has left a lasting impact on Buddhist teachings. She also spoke on SGI President Ikeda's efforts to enable women to blossom to their fullest potential within the SGI community. She also stressed how SGI President Ikeda repeatedly stated that the key to creating a century of women and a century of life lies in empowering women.
| | |
| --- | --- |
| | |
| Prof Dato' Dr Zaleha Kamaruddin's presentation | Dr Toshie Kurihara's presentation |
The second presenter was Prof Dato' Dr Zaleha Kamaruddin, Rector, International Islamic University Malaysia (IIUM). She is the first woman in the world to head an Islamic university. She spoke on the challenges facing women in certain segments of the Muslim world, in particular the crime of honour killings. She called for the public health methodology to be used in identifying and solving problems faced by Muslim communities. She urged those present to remember the words of the Prophet Muhammad who said, "The best of you are the kindest to your wives." She stressed that the protection of life is paramount in Islam.
The final session, themed "Peace" was moderated by Prof Dr Christopher Boey, Deputy Dean, Faculty of Medicine, UM. Dr Kawada spoke on Buddhism's contributions to inter-civilisational dialogue. He began with sharing how through his individual enlightenment, Shakyamuni perceived the ways in which society can become peaceful. Buddhism states that all living beings are endowed with inherent Buddhahood, and by awakening to this Buddha nature and carrying out Bodhisattva practice (non-violence and compassion), we can create lasting peace.
| | |
| --- | --- |
| | |
| Dr Kawada's presentation | Assoc Prof Dr Syed Farid Alatas's presentation |
Assoc Prof Dr Syed Farid Alatas of the National University of Singapore spoke on establishing genuine multi-culturalism in society. He stressed that we need to promote active peace as opposed to passive peace. Human beings must place emphasis on the unity of existence and our common humanity, as opposed to perpetuating perceived prejudices. There is a need for more vigorous interfaith dialogue in Malaysia, and also intra-faith discourse (dialogue between the adherents of different denominations of the same faith).
In her summary of the symposium, Dr Raihanah Abdullah presented the reports of the rapporteurs of the symposium and comments on Tun Dr Mahathir's keynote address. She closed with a Malay pantun urging all to work together to ensure peace in society.
In his closing remarks, Dr Kawada said that Malaysia is the embodiment of the parable of the medicinal herbs (described in the fifth chapter of the Lotus Sutra) where people from different cultural, ethnic and religious backgrounds live together in harmony. Dr Kawada described the signing of the MoU between the IOP and CCDUM as a significant milestone, and hoped that this will be the first step in a series of collaborations that can lead to lasting global peace.