On September 29, 2013 University of Malaya (UM) Vice-Chancellor Tan Sri Dr Ghauth Jasmon gave a lecture titled "Islam: The Religion of Peace, Progress and Prosperity." The lecture was delivered at the auditorium of Wisma Kebudayaan SGM (WKSGM). Before the lecture, he presided over the book launching of Sepanjang Hayat Mencari Keamanan: Sebuah Dialog, the Bahasa Melayu translation of SGI President Ikeda's dialogue with Dr Linus Pauling, A Lifelong Quest for Peace: A Dialogue; and a book presentation ceremony where SGM donated books to UM.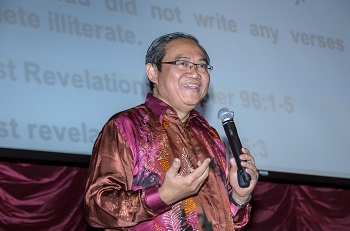 The lecture was chaired by Prof Dato' Dr Christopher Boey, SGM Deputy President and Deputy Dean of the Faculty of Medicine, UM. In introducing Tan Sri Dr Ghauth, he described him as a humble person who greets students courteously and treats them like family members. Tan Sri Dr Ghauth believes in promoting solid growth in UM by forging strong interaction between the university and society.
Tan Sri Dr Ghauth is an electrical engineer by training, graduating with a first-class honours degree in 1979 and a doctorate in 1982 from the University of London. He later went to UM to begin his academic career and rose through the ranks, becoming a full professor in 1992. He later became UM's Dean of Engineering and a Deputy Vice-Chancellor, before setting up Multimedia University as its founding President in 1996. He became Vice-Chancellor of UM in November 2008. He has also been involved in many professional engineering committees and activities and was formerly a Secretary-General and Vice-President of the Association for Engineering Education in South East Asia and the Pacific.
In explaining why he decided on this topic, he said that in recent years Islam has received much bad publicity and unfortunately became synonymous with terrorism. "The Islam I know does not promote terrorism. It advocates peace, progress and prosperity." He proceeded to give an outline of the chaotic times of pre-Islam Arabia, with its violence, disenfranchisement of women and idolatry, and how Islam changed that society into one that valued knowledge, human rights and peace.
He also spoke about the Al-Quran and its composition, and stresses that to Muslims, the Quran is a living miracle revealed to humans by the Creator. The Al-Quran is written in language of exceptional beauty, and in the over 1,400 years since its revelation, the original Arabic text has been transmitted without distortion. The Al-Quran is the existential basis of Islam. The Quran as we know it today was compiled some 20 years after the passing of Prophet Muhammad SAW.
In his lecture, Dr Ghauth used verses from the Quran to show what Islam is all about peace, progress and prosperity. "And O my people! Give just measure and weight, nor withhold from the people the things that are their due: commit not evil in the land with intent to do mischief." [Al-Quran Surah 11, verse 85] "O ye who believe! Stand out firmly for justice, as witnesses to God, even as against yourselves, or your parents, or your kin, and whether it be (against) rich or poor: for God can best protect both. Follow not the lusts (of your heart), lest ye swerve, and if ye distort (justice) or decline to do justice, verily God is well-acquainted with all that ye do." [4:135]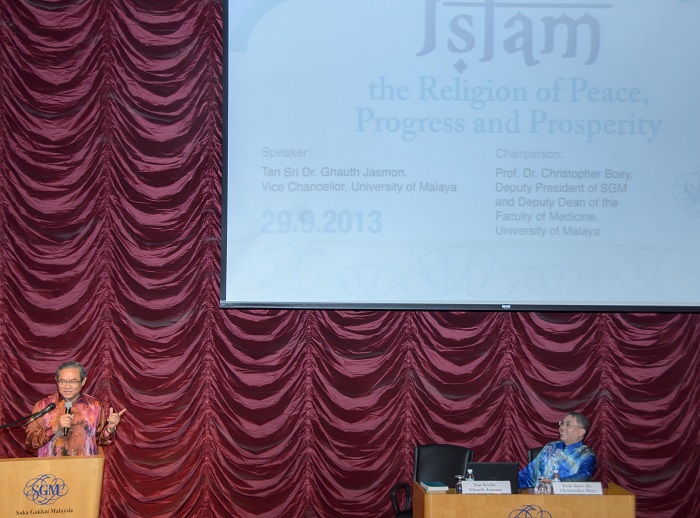 Islam places great emphasis on upholding justice, charity, respect for others, piety, fighting corruption, speaking honestly and forgiveness, all of which are crucial in establishing a peaceful and prosperous society.
In addition to injunctions on living, Dr Ghauth also shared that the Quran is a repository of knowledge. It contains verses on the origin of the universe, orbits of planetary bodies, human embryonic development and others.
Dr Ghauth also used verses of the Hadith and the Prophet's example to illustrate Islam's message of peace. In one incident, a person came into the mosque where the Prophet was praying with his companions and defiled the place. Instead of getting angry, he let the person be and cleaned up the defilement himself. He also lived and dressed humbly, lived in a modest dwelling and slept on a bed made out of palm leaves. When he died, though he did not leave behind any possessions, he became a sage for the ages.
In summing up, Prof Dato' Dr Boey says that Tan Sri Dr Ghauth has indeed proved that Islam is indeed a religion of peace, progress and prosperity. He also quoted Soka Gakkai second president Josei Toda's words that should all the founders of the world's religions sit together, they would be good friends and work together to solve all the world's problems. Tan Sri Dr Ghauth expressed his appreciation at being able to share the beauty of Islam at WKSGM.
Note: The verses of the Al-Quran quoted here are from Abdullah Yusuf Ali's translation that is titled The Holy Quran.