In conjunction with Tan Sri Dr Ghauth Jasmon's peace lecture and the launching of Sepanjang Hayat Mencari Keamanan: Sebuah Dialog, SGM donated 150 books to the University of Malaya (UM). The presentation ceremony was carried out at the auditorium of Wisma Kebudayaan SGM on September 29.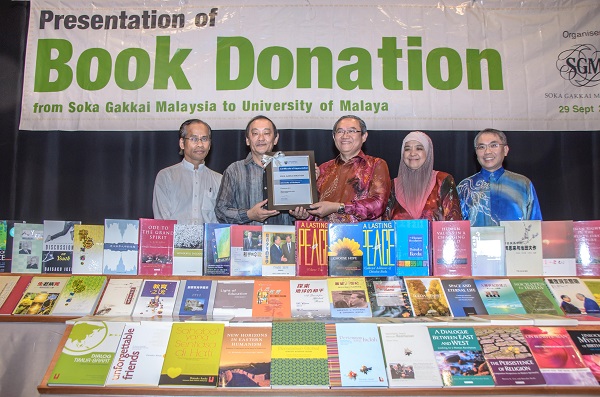 The books presented consist largely of works authored by SGI President Ikeda, such as his dialogues and collection of essays. These books include Choose Life (dialogue with Arnold Toynbee), Songs From My Heart (a collection of Mr Ikeda's poetry and photographs), The Human Revolution (2-volume boxed set) and Unlocking the Mysteries of Birth and Death.
UM then presented a certificate of appreciation to SGI President Daisaku Ikeda to express their gratitude at receiving this gift of books. SGM General Director Koh Sia Feai received the certificate on Mr Ikeda's behalf.