On October 2, SGM presented 106 books authored and co-authored by SGI President Daisaku Ikeda to the Hamzah Sendut Library of Universiti Sains Malaysia (USM). October 2 is Mahatma Gandhi's birthday and International Day of Non-violence. It is also the day in 1960 when SGI President Ikeda made his maiden voyage for world peace.
Receiving the books for USM was Deputy Vice-Chancellor (Industry and Community Relations) Prof Dato' Dr See Ching Mey. SGM was represented by SGM Deputy President Prof Dato' Dr Christopher Boey. The presentation was witnessed by Tuan Hj Mohd Pisol Ghadzali, Chief Librarian of the USM Library, SGM Penang Chairperson Datuk Yeoh Joo Saik, USM staff and SGM Penang representatives.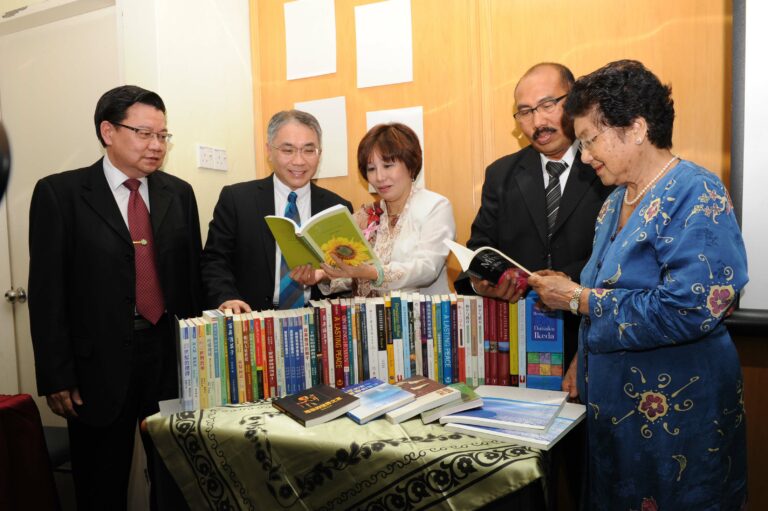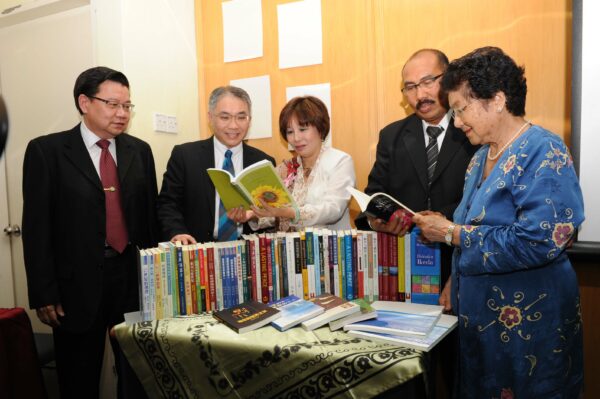 In his speech, Prof Dr Boey expressed his appreciation at USM for agreeing to house the books in one of their libraries. SGI President Ikeda has often said education will be his final undertaking in life and the presentation of the books was an expression of Mr Ikeda's determination to contribute to the fostering future generations.
He said that SGM would be most happy if the books donated can be of benefit to the students for generations to come. He praised USM as a fortress of peace, humanism and justice.
Prof Dr See thanked SGM for the gift of books. She noted that SGM and USM share common ideals. Among the aims of USM is to foster intellectuals who work for the well-being of the local community, not just scholarly individuals. USM, Malaysia's Apex University, embraces a vision for transforming higher education and changing society. She hoped that this event would be start of close collaborations and a stronger relationship between USM and SGM.
After the presentation ceremony, Prof Dr Boey gave a talk titled "Towards Peace and Harmonious Coexistence in the 21st Century", which is based on SGI President Ikeda's 2013 SGI Day Peace Proposal. To achieve a world that values peace and harmonious co-existence, universities have a crucial role to play. That is why we place so much hope on the younger generation, in particular students.  He quoted from the words of USM Vice-Chancellor Professor Dato' Dr Omar Osman who said that knowledge is only meaningful if it creates value. This resonates with the guiding principles of Soka University of Japan, which were given by its founder, SGI President Ikeda, "For what purpose should one cultivate wisdom?  May you always ask yourself this question." and "Only labour and devotion to one's mission give life its worth." 
Dr Boey ended his talk by again quoting Mr Ikeda's words: "The true purpose of a university is to serve the needs and interests of those who could not study there."
In an interview after the presentation ceremony, Prof Dr See expressed her hope that USM and SGM Penang can collaborate in community engagement programmes. She also hopes that USM and SGM will do their best in fostering caring and compassionate young people.