On November 25, 2013, SGM donated 150 books authored and co-authored by SGI President Daisaku Ikeda to Universiti Putra Malaysia (UPM). The book donation ceremony was conducted at the university's main library, with SGM General Director Koh Sia Feai handing over the books to UPM Vice-Chancellor Prof Datuk Dr Mohd Fauzi Hj Ramlan. The books presented are works published in Bahasa Melayu, English and Chinese. The book donation was witnessed by UPM Chief Librarian Amir Hussain Md Ishak. Also in attendance were members of UPM's academic and student communities and SGM Public Relations staff.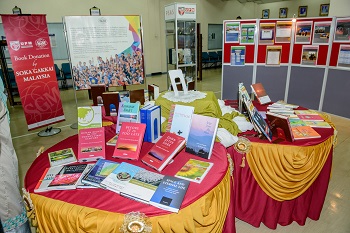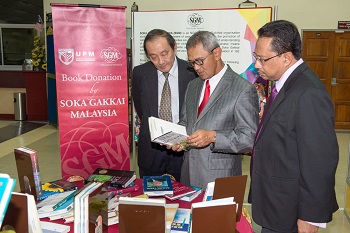 In his speech, Mr Koh stated that 2013 marked the 13th anniversary of the year SGI President Ikeda received his honorary doctorate from UPM (On November 29, 2000, SGI President Ikeda received an Honorary Doctorate of Letters from the university). In his acceptance speech for the honorary doctorate, SGI President Ikeda had offered his sincere hopes for the continuing development of UPM. Mr Koh also remarked that this book presentation is an extension of Mr Ikeda's wish for the development of the university, and hoped that these books can inspire the students.
In his speech, Prof Datuk Dr Mohd Fauzi stated that in order to have peace, everyone must be able to understand the cultures and educational norms of other communities, especially those in Asia where cultures are so diverse. Understanding international society will help to build strong bonds that will benefit the people today and in the future.
He further added: "Dr Ikeda's works will surely be able to promote understanding among people and increase our appreciation for each other."