On November 8, 2013, Super Typhoon Haiyan (locally known as Yolanda), the most powerful typhoon to ever hit land, wreaked havoc across central Philippines, killing more than 5,000 people and leaving nearly one million people displaced.
Members of Soka Gakkai Malaysia (SGM) had been collecting funds in support of relief activities in the Philippines. SGM members in various states used their monthly Soka Day events in December to hold prayer sessions to pray for the repose of those who perished in the typhoon disaster, and to pray for the early reconstruction of the disaster areas. Donation boxes were set up for members who wished to donate to the victims. A total of RM 140,981.15 had been collected from the members of SGM nationwide.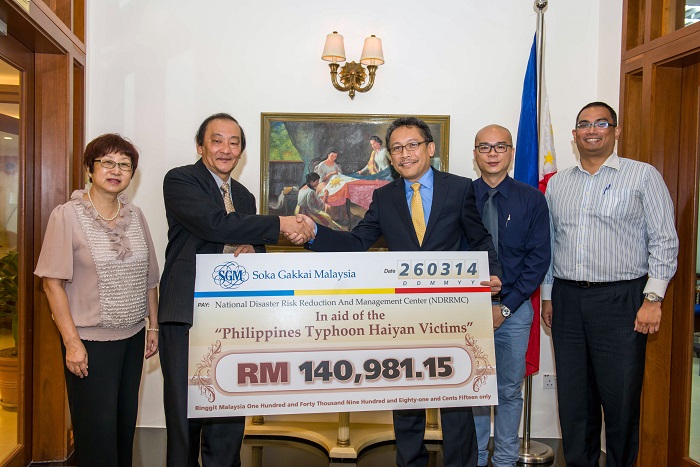 On 26 March 2014, Mr Koh Sia Feai, General Director of SGM presented the donation to the National Disaster Risk Reduction And Management Centre (NDRRMC) of the Philippines, received by Mr Medardo G. Macaraig, Minister and Consul-General, Embassy of the Philippines, Kuala Lumpur. The donation presentation was witnessed by Ms Katherine Chui, Mr Dinesh Chandren and Mr Chia Kok Peng from SGM. Ms Johann Veronical M. Andal, Third Secretary and Vice-Consul of the Embassy was also present during the presentation.
On behalf of H.E. J. Eduardo Malaya, the Ambassador and people of the Philippines, Mr Macaraig expressed his appreciation to SGM for the kind support to the victims. He shared the recent update of the rebuilding progress of the affected areas with the SGM delegation.