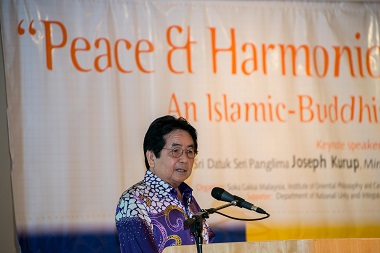 YB Tan Sri Datuk Seri Panglima Joseph Kurup delivered the keynote address
In conjunction with the Lotus Sutra exhibition, SGM hosted an interfaith dialogue titled "Peace and Harmonious Coexistence: An Islamic-Buddhist Dialogue" at the International Conference Hall of Wisma Kebudayaan SGM (WKSGM) on April 13, 2014. This dialogue aims to share perspectives of Islam and Buddhism on peace-building, vis-à-vis the parables found in the Al-Quran and the Lotus Sutra.
Presenting the Islamic perspective was Dr Ismath Ramzy of the Centre for Civilisational Dialogue (CCDUM), University of Malaya (UM) while Prof Dato' Dr Christopher Boey, Deputy Dean of UM's Faculty of Medicine and SGM Deputy President presented the Buddhist perspective. The dialogue was chaired by CCDUM Director Assoc Prof Dr Faridah Mohd Noor, while Minister in the Prime Minister's Department, YB Tan Sri Datuk Seri Panglima Joseph Kurup delivered the keynote address for this occasion. Also present during were academicians from Malaysian universities, a retired Court of Appeal judge and peace activists in Malaysia.
In his welcoming speech, SGM General Director Koh Sia Feai remarked that this dialogue is part of a series of activities aimed at strengthening and disseminating the message of peace and harmonious coexistence that the Lotus Sutra exhibition held here aims to share with Malaysian society. Religious dialogues are important in promoting mutual respect and understanding among followers of different faiths, and enhance harmony and goodwill among one another. Quoting from Hans Kung who said, "There will be no peace among nations if there is no peace among religions", he asked all present to join hands in promoting solidarity and harmonious coexistence.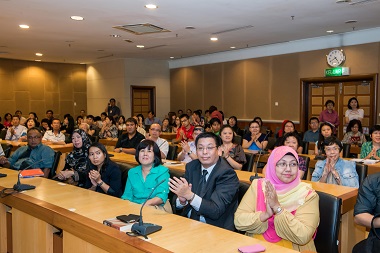 The audience
In his keynote address, YB Tan Sri Joseph Kurup noted that while the country was traumatised by the disappearance of flight MH370, people all over the country have come together to pray together in interfaith prayer ceremonies. It was moving to see people of different faiths praying side-by-side with each other. Religious differences are perceived to be the source of division among people today; however, it is intolerance, religious bigotry and the artificial boundaries that human beings construct that cause conflict among people.  He urged everyone to come together to build a future that is full of hope and compassion for our children, instead of leaving behind a world torn by hopelessness, tyranny and hatred. He praised SGM for organising this dialogue as it can help generate mutual understanding and respect among the adherents of different faiths.
Dr Ramzy, originating from Sri Lanka, is currently a research fellow at CCDUM and has carried out research on Islam and Theravada Buddhism. At the start of his presentation, he remarked that when viewing the Lotus Sutra exhibition, he was attracted by the parable of the three carts and burning house, where the Buddha strives to save people from the fires of worldly suffering. He remarked that the Al-Quran was revealed to humankind in order to protect them from hellfire.
The Quran is a scripture that enjoins human beings to ensure peace on earth. Muslims around the world often greet people by saying "peace be upon you", and one of Allah's 99 names is Ar-rahman (The Merciful). Islam calls for its adherents to become peace-makers. Peace is not merely an absence of war and violence. Peace in Islam is the absence of fear other than fear of God. And peace must begin within oneself.
Other than using examples from the Al-Quran, he also shared stories of the Prophet Muhammad (pbuh) and his companions to illustrate the importance of upholding good values. Islam also recognises the differences among people and celebrates diversity. He shared that when Prophet Muhammad made the Hijrah to Madinah, he was actually guided by a Jew. Surah Al-Hujurat of the Al-Quran states: "O mankind! We created you from a single (pair) of a male and a female, and made you into nations and tribes, that ye may know each other (not that ye may despise each other)." (49:13)
In Islam, humankind is given an exalted place among Allah's creations, but they have weaknesses and must therefore be guided so that they may live good lives.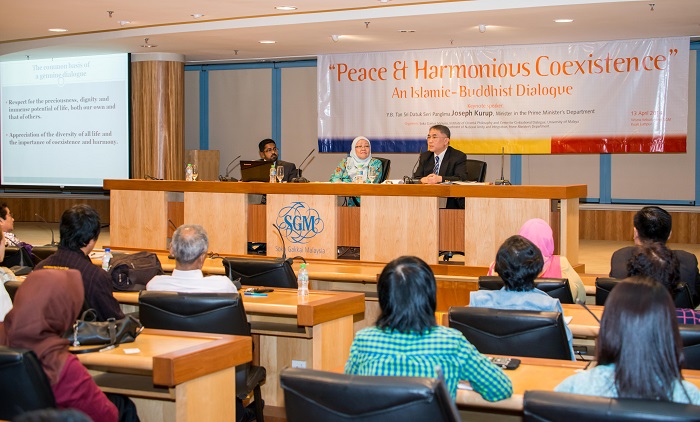 From left: Dr Ismath Ramzy of the Centre for Civilisational Dialogue, University of Malaya (CCDUM), CCDUM Director Assoc Prof Dr Faridah Mohd Noor and Prof Dato' Dr Christopher Boey, Deputy Dean of UM's Faculty of Medicine and SGM Deputy President
Dr Boey spoke about Buddhism's emphasis on dialogue. Though technology has greatly increased the channels of communications, it has not necessarily increased the quality of communication among people. Therefore, deeper dialogue is needed to build stronger relationships. He quoted Soka Gakkai second president who said that if all they founders of the world's religions sat together, they would become the best of friends, instead of arguing over their teachings, as they all place love for humanity as most important. He said that it is with this spirit that we should pursue dialogue.       
Dr Boey shared on two of the seven parables of the Lotus Sutra; the parable of the jewel in the robe and the parable of the medicinal herbs. The message of the first parable is that each person possesses unlimited potential, and we must strive with all our might to develop that potential for the sake of peace. The parable of the medicinal herbs is all about diversity. We all have different abilities, strengths and preferences, and we will definitely manifest our humanity in infinitely different ways. It is by celebrating our diversity that we can truly appreciate all that is around us and refine our own humanity.
Both speakers concurred that dialogue is the surest way to make our humanity shine for the sake of others. Though there are great challenges in achieving world peace, these challenges can help bring out the great potential within human beings. Their sharing was closed by a question-and-answer session.