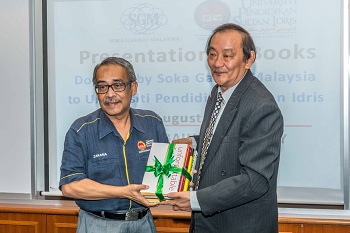 On August 6, SGM donated over 120 books to the Tuanku Bainun Library of Universiti Pendidikan Sultan Idris (UPSI; Sultan Idris Education University). The books donated were works mainly works authored and co-authored by SGI President Daisaku Ikeda, being part of SGM's campaign to donate books to Malaysian institutions of higher learning which began last year.
UPSI, which currently has two campuses in the Tanjung Malim area of Perak, aims to be Malaysia's leading university providing educational leadership, based on the advantage of broad experience and high level of competency in meeting global changes. It was founded in 1997 and currently has 27,000 students. A third campus will be established in Teluk Intan in the coming years.
The donation ceremony was held in the library, which is housed within the university's Sultan Abdul Jalil Shah Campus. UPSI Vice-Chancellor Prof Dato' Dr Zakaria Kasa received the books from SGM General Director Koh Sia Feai. Also present during the ceremony were the university's Chief Librarian Mdm Rusliza Yaacob and Senior Deputy Chief Librarian Mdm Hjh Siti Sumaizan Ramli, university staff and SGM Kuala Lumpur representatives from the Tanjung Malim and Rawang areas.
In his speech, Prof Dato' Dr. Zakaria expressed his gratitude to SGM for the gift, saying it will help strengthen the library's collection and are a valuable resource for thoughts on human values and sustainable peace. The ideals contained in the books are in line with UPSI's mission of promoting human well-being through education. Prof Zakaria expressed his hopes that UPSI and SGM will have further collaborations in the future.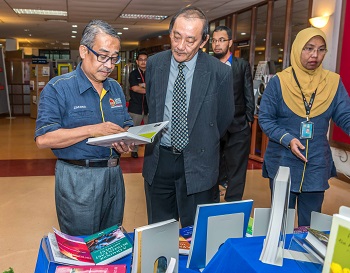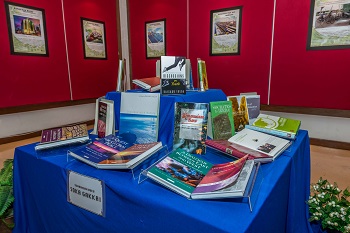 SGM General Director Koh Sia Feai said that SGI President Ikeda is a prolific author whose works span poetry, essays, peace proposals, dialogues, university lectures and other genres. The Collected Works of Daisaku Ikeda has exceeded 140 volumes and is still growing. Nuclear Age Peace Foundation founder and president David Krieger once said that Mr Ikeda's works provides great inspiration to young people.
Mr Koh also spoke about SGI President Ikeda having met the late Sultan Azlan Shah of Perak and his son, current Perak ruler HRH Sultan Nazrin Muizzuddin Shah in the 1990s. Sultan Nazrin also received an honorary doctorate from Soka University, Japan, which was founded by Mr Ikeda.
The library was established on August 8, 2007 and was named after Tuanku Bainun Mohd Ali, the consort of Sultan Azlan Shah and former Raja Permaisuri of Perak.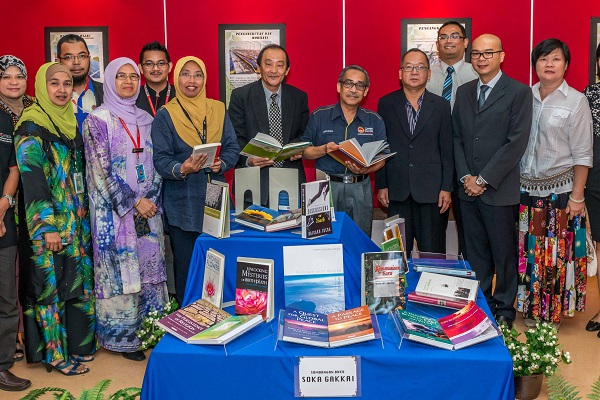 The SGM delegation was later given a tour of the Tuanku Bainun Library. The library is not only open to the students and staff, but also to members of the public, as an expression of the university's mission to contribute to society. The SGM delegation was happy to learn how people-friendly the library was, which has a mini-café for late-night studying and research, in addition to the extensive collection.
After touring the library, the SGM delegation visited the Sultan Azlan Shah Campus of UPSI in nearby Proton City to tour the National Child Development Research Centre housed at this site, which has comprehensive pre-school education and childcare facilities. On this campus, UPSI runs a full-time kindergarten and day-care centre, catering for young children from as young as three months old to pre-school. The facilities cater for families who live near the university.
Mr Koh expressed his appreciation to UPSI staff for the tour of the university and was very pleased to see the extensive facilities there.