As the Treaty on the Prohibition of Nuclear Weapons (TPNW) was successfully ratified by 50 countries and will be entering into force on January 22, 2021, the Youth Team from the Voices for a World Free of Nuclear Weapons (Voices) held an online cross-border Zoom panel themed "Multigenerational Perspectives on a World Free of Nuclear Weapons: An Intergenerational Panel" on November 28, 2020.
The panel was moderated by Kehkashan Basu, the Voices Youth Team leader, with seven panelists from the US, Mexico, India and Malaysia, including the president and founding trustee of United Religions Initiative (URI) Rev William E. Swing, URI main representative to the United Nations Monica Willard and former senior US diplomat Ambassador Thomas Graham Jr., who shared their views and experiences on the issue of nuclear weapons. Some of the topics and questions raised in the panel included opinions on matters that hinder the abolition of nuclear weapons; the role of faith organisations in nuclear disarmament; the relationship between nature and nuclear weapons; involvement of youths in nuclear disarmament discussion and education on nuclear weapons in the society.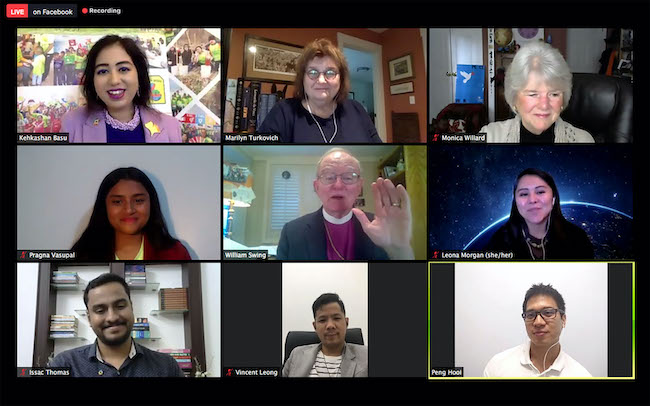 Tan Peng Hooi, a youth representative from SGM, was invited to speak on the panel. He shared his experience in participating in events promoting nuclear disarmament such as events discussing SGI President Daisaku Ikeda's peace proposals, which often called for abolishing nuclear weapons. He also shared some of the peace ideals of SGI President Daisaku Ikeda and second Soka Gakkai president Josei Toda, which is to eliminate deeply rooted evil within one's heart.
Voices is one of the cooperation circles (grassroots groups) of URI, a global grassroots interfaith network that cultivates peace and justice. The Voices members consist of those from across political, religious, spiritual and interfaith communities who are committed to working tirelessly to build popular momentum for the elimination of nuclear weapons. Their purpose is to educate people about the nuclear threat and be ready to join others in abolishing nuclear weapons.