November 18, 2020 marked the 90th anniversary of the Soka Gakkai's founding while November 27 is the 20th anniversary of SGI President Ikeda's second visit to Malaysia. On November 29, SGM held an online commemorative meeting to celebrate these two significant dates.
In his message for the 90th anniversary, SGI President Daisaku Ikeda said that in this auspicious time where Soka mentor and disciples are celebrating the 90th anniversary of the founding day, we should all inherit the spirit of "Vast Heart" and strive for the sake of Buddhism, friends and societies. He also urged the members to write their own dramas of human revolution and develop a life-state that is filled with "the greatest of all joys."
Viewers then watched a video of SGM's activities for 2020, which included SGM's achievements in advancing kosen-rufu in spite of the restrictions imposed by the pandemic. This included launching plans for the establishment of the Soka International Secondary School (SISSM) and playing a pivotal part in Malaysia ratifying the Treaty on the Prohibition of Nuclear Weapons (TPNW).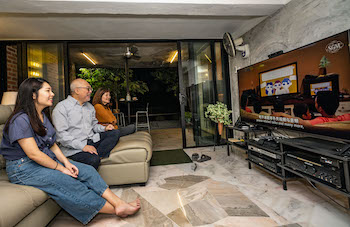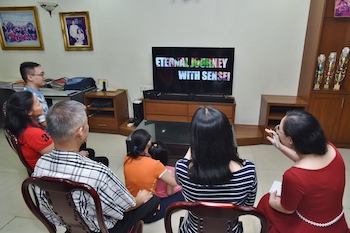 This was followed by SGM Selangor member Kee Chai Hock sharing his faith experience. Through the united prayers of his family members, he overcame the brink of financial ruin and carried out human revolution, while his son was able to overcome challenges in his studies.
In the "Prime Point with Mentor – Soaring into the Sky of Education" segment, three members spoke about their bond with their mentor and their determination for the future. They were Bong Hui Shian, who was in the audience when President Ikeda received an Honorary Doctorate of Letters from Universiti Putra Malaysia in November 2000; Lim Tee Yen, a former exchange student in Soka University of Japan (SUJ) and Chow En Ling, a young woman who grew up in the Soka education system.
In the penultimate segment, "Towards Our 100th Anniversary – Meeting with the Future," representatives of various divisions shared their determinations for the next decade, as part of their efforts to write their own "sequel" to The New Human Revolution and as a member of the New Human Revolution Generation.
In conclusion, SGM General Director Koh Sia Feai spoke on "The Human Revolution Movement," where he encouraged members to do their utmost in realising and propagating this movement, detailing some examples of the greatness of human revolution and concrete ways of achieving it. He also urged the members saying that "For the next ten years, let us lead the 'transformation of karma' of all humanity through the victorious human revolution of each and everyone of us."