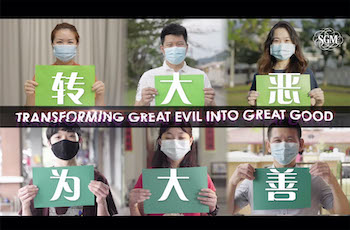 Sabah youths
On November 29, SGM held an online conference to conduct the Fifth Headquarters Leaders Conference cum 90th anniversary of the founding of Soka Gakkai which fell on November 18. Some 1,240 leaders attended.
To kick off the meeting, a video of the 47th Soka Gakkai Headquarters Leaders Meeting of the New Era of Worldwide Kosen-rufu was shown where SGI Vice-president Hiromasa Ikeda read out SGI President Daisaku Ikeda's congratulatory message for the occasion. President Ikeda, in his message, mentioned that we are in an auspicious and wonderful time to be celebrating the 90th anniversary of the Soka Gakkai. He also shared a calligraphy he inscribed in 1985 to commemorate the 55th anniversary of Soka Gakkai. The work contained the Japanese characters for "vast heart" (Jpn daishin), meaning an expansive, all-encompassing spirit or state of life. Citing Soka Gakkai founding president as the quintessence of having this "vast heart," he urged Soka Gakkai members worldwide to develop such expansive hearts in working for kosen-rufu with confidence and optimism.
This was followed by an announcement of an expansion in the organisation, which now has 1,752 blocks and appointment of new leaders nationwide. Lee Kam Yit is now the new SGM young women's division (YWD) leader, with Magdelyn Choo now assuming the role of YWD general leader. Koay Chen Yeong and Cheang Yee Mun are the new student division leader and young women's student division leader respectively. Videos featuring the organisation's annual activities and a culture performance by Sabah youths was presented as well.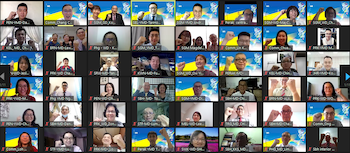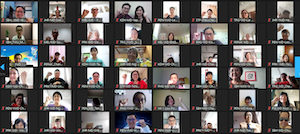 Following that, SGM General Director Koh Sia Feai gave a report on SGM activities and the achievements gained in 2020. In his keynote speech, he emphasised that the next ten years are crucial in determining the future growth of the organisation and gave some important guidelines on how members should proceed in that direction, including the necessity of chanting abundant daimoku and transforming great evil to great good while showing great actual proofs.
SGM has also set a goal to achieve a youthful organisation by 2022, where members aged between 13 to 49 will make up 60% of the entire membership. Another goal to be achieved is a membership of 150,000 by 2030.
| | |
| --- | --- |
| | |
| SGM General Director Koh Sia Feai | SGM women's division leader May Chan |
| | |
Next, SGM young men's division leader Tan Jun Kong and SGM young women's division general leader Magdelyn Choo announced SGM's ten-year plan towards 2030 and focus for 2021, the Year of Hope and Victory. Apart from urging the leaders to make a vow for kosen-rufu as the core of their life, they elaborated on holding hope-filled dialogue, introducing more people to Nichiren Buddhism, encouraging and caring for them to ensure their growth in faith.
SGM women's division leader May Chan then encouraged the participants to keep on striving against adversity, as through faith, even the harshest winter will unfailingly become the happiest springtime, where people will usher in the time of hope and victory. She stressed the importance of building unshakeable unity, as unity is key towards SGM's victory and the Soka Gakkai's endeavours for worldwide kosen-rufu.