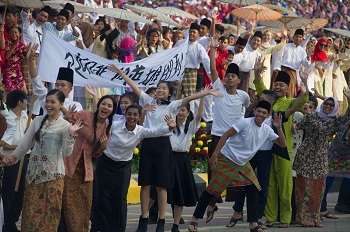 On August 31, 2017, 240 SGM Youth Division members from SGM Kuala Lumpur performed in the 60th National Day celebrations held at Dataran Merdeka (Independence Square) in the heart of the nation's capital, Kuala Lumpur. The theme of this year's National Day celebrations was "Negaraku: Sehati Sejiwa" (My Country: One in Heart and Soul).
For this event, SGM sent two teams of performers. The first team is made up of 40 dancers from SGM's Dove Dance Group, who formed part of a 600-strong team of performers dubbed Komponen Rakyat Bersepadu (Integrated Citizens Component; KRB). The entire KRB team performed various segments re-enacting significant moments in Malaysia's history, and sang patriotic songs while dancing.
The second team of performers, numbering 200 people, gave a special fast-paced field performance consisting of lively calisthenics and human formations. Their three-minute performance opened the segment highlighting the achievements of Malaysian Prime Minister YAB Dato' Sri Mohd Najib Tun Abdul Razak.
The performance was inspired by the aspirations of TN50 (Malaysia's 2050 National Transformation plan) and verses from SGI President Daisaku Ikeda's poem "Youthful Country with A Shining Future", which was written for Malaysia on the occasion of his first visit to Malaysia in February 1988:
Malaysia, land of youth!
Malaysia, land of the future!
It is youth who will shoulder
your unbounded future;
more than anything,
their vigorous growth
contains the promise
of a flourishing tomorrow.
The performers formed spinning tops, colour guard displays and various other formations set to an energetic music. The climax of the performance was formation of six three-level human towers, signifying Malaysia's 60 years of independence and the administration of six Prime Ministers.
The performers had been preparing for this historic performance for two months. Along the way, they overcame various challenges based on faith and encouragement from group leaders and fellow members. Senior Youth Division leaders regularly gave encouragement to the performers while Men and Women Division leaders, together with Youth Division leaders, conducted dialogues with the performers.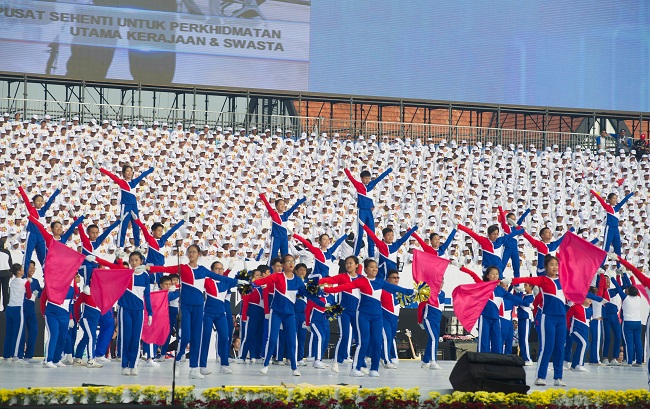 SGM General Director Koh Sia Feai attended the final rehearsal for the celebrations on August 29 and thanked all 240 performers and the support team for their efforts, later encouraging them to do their best on D-day.
He also attended the celebrations on August 31, and congratulated them for their wonderful performance, and thanked them for their valiant efforts. SGM Young Men's Leader Andrew Looi was also on-hand to encourage the performers.
After the event, the performers cheered and some shed tears of joy, celebrating the culmination of their efforts.
This year's National Day celebration saw the participation of some 18,000 performers, the vast majority of whom are youth. Members of security forces, government departments, statutory bodies and school students put up lively shows and parades. SGM is the only non-governmental organisation to be invited by the government to perform in this National Day celebration.
The guest-of-honour was the Yang DiPertuan Agong, His Majesty Sultan Muhammad V. Also in attendance was Malaysian Prime Minister Dato' Sri Mohd Najib Tun Abdul Razak, members of the cabinet, government officials, Members of Parliament, foreign dignitaries and guests from overseas. Members of the public also thronged the area around Dataran Merdeka to celebrate the anniversary of Malaysia's independence.