From August 5 to 27, Khoo Sui Hoe's solo exhibition entitled "The Painted World of Khoo Sui Hoe II" was held at Wisma Kebudayaan SGM. Artist Khoo is an internationally-known Malaysian artist with more than fifty solo exhibitions around the world and plays an important role in the art and cultural history of Malaysia. Khoo now resides in the US.
This exhibition is a continuation of Khoo's 2007 retrospective exhibition held in Penang, showcasing about sixty artworks done since 1965, exploring simple themes, creative elements as well as rich artistic characteristics. The fascinating images, colours, styles and themes are painted with joy and delight to create simple yet refreshing worlds.
His works merge images with familiar landscapes, integrating surrealism and abstract elements, with special emphasis on details to accentuate expressionistic hints. He is well-known for his landscapes, mask-like faces, natural shapes and objects, both figurative and imaginative, rich with emotive forces while calmly expressing universal values.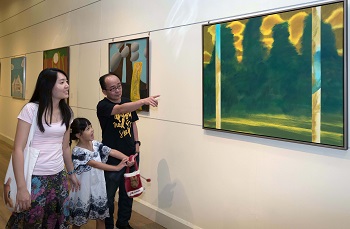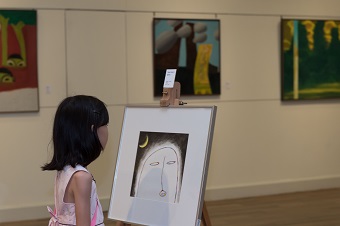 In his welcoming remarks at the opening ceremony on August 5, SGM General Director Koh Sia Feai likened Khoo's life to a quote by Vincent Van Gogh (1853–1890) "The only time I feel alive is when I'm painting" in praise of Khoo's dedication to the pursuit of art. Mr Koh also said that the values found in Khoo's paintings which celebrate the affirmation of life and of being at one with the natural surroundings resonate with the philosophy upheld by SGM. He believed that art will unite people and create a powerful force for peace.
On hand to officiate the exhibition was Director-General of the National Visual Arts Development Board, YBhg Prof Dato' Dr Mohamed Najib Ahmad Dawa. In his speech, he mentioned, "Cultural and artistic exchanges can build bridges of friendships and enhance relations between countries and societies, resulting in peace and prosperity." Believing that as art has no barriers, it "transcends geographical borders and dissolve differences caused by ethnicities, languages and people."
After the opening of the exhibition, Khoo held a question-and-answer session with the audience, sharing his artistic journey and highlights in his long career. Despite his advanced age of 78, Khoo is still passionate about painting and creating new imaginative worlds filled with creativity and joy.