On September 19, 2010, away from the hustle and bustle of the city, 182 SGM Selangor members planted more than 1800 mangrove tree saplings (Rhizophora mucronata) at the Kuala Selangor Nature Park mangrove forest. The Beautiful Earth Campaign 2010 was organised by Estee Lauder Companies and SGM Selangor had the opportunity to co-organise the Mangrove Tree replanting event which was one of the programmes of the campaign.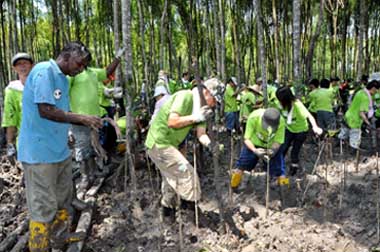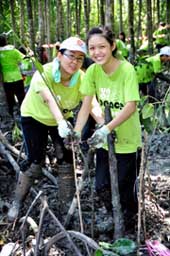 Managing Director of Estee Lauder Malaysia (ELM), Mr Loo Kai Nan, said that, "Beautiful Earth Campaign is a global programme organised by Estee Lauder to help Mother Nature. SGM Selangor was chosen to support this event because SGM is an organisation that cares for the environment besides actively promoting peace, education and culture. A total of 3500 mangrove tree saplings were donated by the general public, employees and family members of ELM. The first half of the saplings were planted earlier in the month by ELM employees."
This campaign, in its second year running, allowed SGM Selangor members to contribute directly to the environment and also create awareness on the importance of mangrove forest. Mr Loo hoped that this event would continue on a yearly basis and that SGM would keep supporting future campaigns.
The Kuala Selangor Nature Park (KSNP) was established by Malaysian Nature Society (MNS) in 1987 as a sanctuary for migratory birds, endangered species such as the Silvered Leaf Monkey and the breeding ground for fireflies.
Mr Ashok from MNS briefed the participants on the correct method to plant saplings. This is to increase their survival rate. Ms Angel from MNS mentioned that SGM was the first Buddhist association that supported the KSNP replanting scheme. MNS also looked forward to future collaboration with SGM.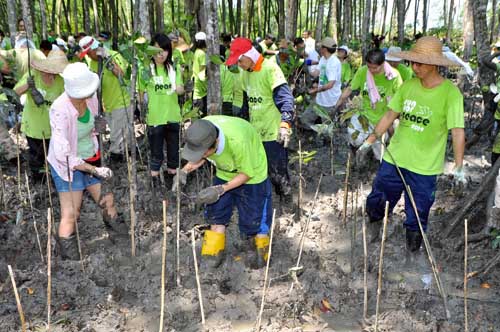 The participants, aged from 14 to 60 years old, were also educated on the importance of mangrove forests to the Earth's ecosystem. For almost all of them, it was their first encounter with a mangrove forest.
During the event, Mdm Tiew relived her childhood memories and hoped that the future generation would be able to appreciate and enjoy nature as well as to protect it for future generations. On the other hand, the youths found it inspirational as they were able to put into action what they learned from SGI President Ikeda's Peace Proposals, SGM, Earth Charter exhibitions as well as Soka Gakkai's philosophy of peace, education and culture.