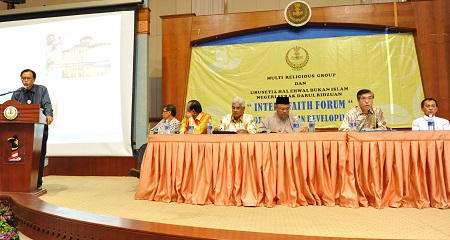 Eighty SGM Perak members convened at the Perak State Secretariat multi-purpose hall on 13 November, 2010 to attend an interfaith forum entitled "The Role of Religion in Developing Society." Other participants included the Chinese Muslim Association of Ipoh and the Taoism Association.
Attended by more than three hundred people, the forum was co-chaired by Prof Dr Mansor Mohd Noor of Universiti Kebangsaan Malaysia and Rev Dato' Dr Yeoh Beng San. The forum was also jointly-organised for the first time by the various religious groups and the Perak state Non-Islamic Affairs Secretariat.
In his opening address, YB Dato' Mah Hang Soon, chairman of the Perak Non-Islamic Affairs Committee remarked that the aims of holding the forum were to find ways in which religion could contribute to the development of society and to identify a common ground in which all religious groups could agree and work upon with unity in diversity. Papers on Buddhism, Christianity, Hinduism and Sikhism were presented. From the presentations, participants learned how each religion emphasises on contributing to society.
SGM Perak representative, Mr Tan Sai Hoi, in his presentation cited that the fast development of modern infra-structures and technology sometimes happen at the expense of humanistic values and moral ethics. He introduced SGM's contributions towards Malaysia's societal development within the context of humanistic values, education, peace, arts and culture activities based on Nichiren Buddhism.