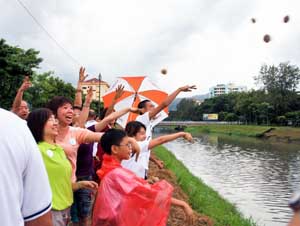 SGM members converged at Sungai Keluang to witness the launching of "A Million Apologies to Mother Earth" programme by YB Sim Tze Tzin on August 8, 2010. A total of 20,000 effective microorganisms (EM) mudballs were thrown into Sungai Keluang in Bayan Lepas as part of the programme to achieve a "Cleaner, Greener Penang." Some 2,000 people attended the two-hour event. Certificates of appreciation were given to government bodies, SGM and other non-governmental organisations which were involved in the project.
Immediately after the launching, YB Sim Tze Tzin led a group of people in throwing EM mud balls into Sungai Keluang. About 70 SGM members joined hundreds of other people from various organisations and private sectors in the endeavour.
The project was first launched last year by the State Economic Planning Unit, as part of efforts by the state government to preserve the environment. This year, the Penang Development Corporation (PDC) was the sponsor and prime mover for the project. PDC General Manager Datuk Rosli Jaafar said that Sungai Keluang was chosen to be rehabilitated because the river runs through the industrial sector and residential areas. Two weeks before the launching of the event, SGM Penang members had begun gathering at the Penang Youth Park on July 24, 2010 to make 10,000 EM mudballs which help to degrade pollutants in rivers, making them less murky and smelly.