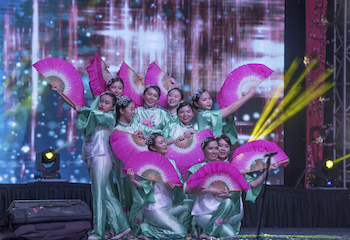 Penang
On February 15, 2020, the Ministry of Tourism, Arts and Culture (MoTAC) and the Penang government jointly-organised a Chinese New Year Open House Feast at Esplanade Penang.
SGM Penang staged two dances. Ten Rainbow culture group members danced in the background while local pop duo Fuying & Sam sang "Peach Blossom" (Taohua Duo Duo Kai). Meanwhile, ten members performed a Chinese dance titled "The Lotus Pool by Moonlight" (Hetang Yuese) and joined a welcoming group before the feast started. Performers from Istana Budaya were also part of the ranks.

Guests-of-honour were Pandan MP YB Dato' Seri Dr Wan Azizah (then Deputy Prime Minister) and Penang chief minister YAB Chow Kon Yeow, with MoTAC representatives in attendance.
In Selangor, in conjunction with Visit Malaysia Year 2020, Klang Municipal Council (MPK) and Klang City Rejuvenation (KJC) organised a Chinese New Year Celebration on February 7 at Jalan Besar off Jalan Raya Timur, Klang, Selangor.
| | |
| --- | --- |
| | |
| Kedah | Selangor |
| | |
SGM Selangor's martial arts group joined the dragon dance and performed with teams from Chung Hua Klang High School and Kwang Hua Private High School. Also present were Selangor executive councillor YB Dato' Teng Chang Khim; MPK deputy president Elya Marini Darmin and others. In total, some 500 people attended this exciting event.
On the same day, Persatuan Penduduk Kaum Cina Pekan Pokok Sena and Kawasan Rukun Tetangga Kampung Baru Pokok Sena also jointly-organised a Chinese New Year Celebration in Sena Village, Kedah. SGM Kedah performed a multiethnic dance titled "Muhibah." Pokok Sena MP YB Dato Mahfuz Haji Omar (then Deputy Minister of Human Resources) was one of the invited guests.
Next, in Batu Pahat, Johor, Gabungan Persatuan-persatuan Cina Batu Pahat, Chinese Chamber of Commerce Batu Pahat and several other Chinese associations organised the 20th Batu Pahat Chinese New Year Celebration. From January 11 to February 9, a series of fun activities were held in the town.
| | |
| --- | --- |
| | |
| Johor | Kuala Lumpur |
| | |
On January 11, SGM Johor was invited to join a parade starting from Tian Hou Gong Temple to Dataran Batu Pahat. In addition, a group of SGM Johor young women's division members also performed two dances on the outdoor stage of the Chinese Chamber of Commerce Batu Pahat building on January 31 and February 9.
Meanwhile, on February 15, 14 SGM Kuala Lumpur Young Lion Martial Arts (YLMA) group performed in a Chinese New Year celebration-cum-opening ceremony of a new building named Pusat Ilmu Muslim Aid (PIMA), located in Ampang, Selangor. PIMA is an educational institution dedicated to providing education for under-privileged children including orphans and refugees.