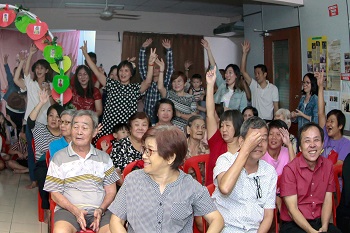 Selangor
From December 2019 to February 2020, SGM members around the nation held general meetings in their respective areas where they reviewed 2019's achievements,and encouraged each other to advance in the new year.
In the meetings, participants watched a video of SGM's kosen-rufu milestones in 2019. The 2020 theme, the Year of Advancement and Capable People, was also introduced. Besides focusing on fostering capable people, new goals for shakubuku and Gohonzon enshrinement were also shared.
SGM will also focus on enriching discussion meetings, studying The New Human Revolution, promoting Malaysia's ratification of the Treaty on the Prohibition of Nuclear Weapons (TPNW) and global entry into force at the earliest, and ensuring the success of the Lotus Sutra Exhibition.
SGM General Director Koh Sia Feai also presented his congratulatory message via video and announced the construction of the Soka International School (SIS; tentative name). The news caused great cheer among members. SIS marks the expansion of Soka education in Malaysia.
The meetings continued with participants sharing determinations and victory reports. After the meetings, members vowed to advance valiantly this year, the 90th anniversary of the Soka Gakkai's establishment, and create more victories in the spirit of "Everyone Advances!" and Everyone Is Capable!"
| | |
| --- | --- |
| | |
| Kuala Lumpur | Penang |
| | |