This year welcomes the Year of Ox. On February 12, 2021, the first day of Chinese Lunar Year, SGM broadcasted an online Chinese New Year celebration on its official broadcast channel with 11,943 viewers. Members and their families and friends were staying safe at their respective homes while watching this online celebration.
The celebration started off with SGM Johor's Soka Successor dance group members who wore red costumes and Penang's Yin Xuan Choir presenting dances and songs titled "Da Tuanyuan" (Big Reunion) and "He Xinnian" (Celebrating the New Year) respectively, bringing a cheerful atmosphere of new year to the viewers. Later, a short family drama showed some of the traditional customs and cultures when celebrating this festive season.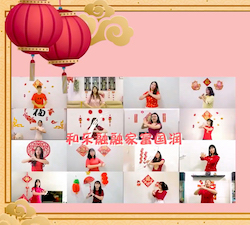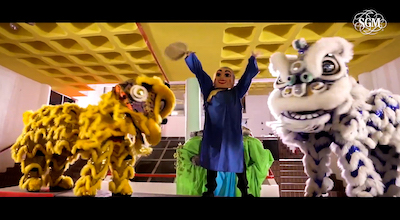 Afterwards, members of SGM Kuala Lumpur's Young Lion Martial Arts presented a must-see performance of dancing lions, and a new Chinese New Year song titled "The Vast Heart of Soka – The Ox that Transforms Adversity" during the finale.
SGM women's division leader May Chan sent her Chinese New Year greetings, saying that the COVID-19 pandemic has enabled people to deeply
realise and renew their understanding on what are the most important things in life. With the motto of "A new year, a new departure," she encouraged the viewers to appreciate the people right in front of them and give them a sense of reassurance and hope. She also urged them to "Let's advance with great hope!"
| | |
| --- | --- |
| | |
| Perak | Selangor |
| | |
Following that, SGM General Director Koh Sia Feai also sent his greetings to members nationwide, stating that the ox is a symbol of hard work and
strength in Chinese culture, and encouraged all members to fully put their efforts into kosen-rufu, work and career, and create glorious outcomes. He urged members to exert effort in realising the SGM ten-year plan to create an age of peace and happiness for our society and country.