From June 3 to 18, "My Clay Soul – Cheah Yeow Seng Ceramic Art Exhibition" was held at Wisma Kebudayaan SGM, featuring around a hundred pieces of pottery art created by Cheah Yeow Seng since 1985.
In his opening speech, SGM Treasurer-General Chai Koh Pong mentioned that this was the first ceramic art exhibition SGM organised and the first solo exhibition Cheah held there. Quoting SGI President Ikeda, "With lofty ideals and serious determination, you will shine with beautiful radiance and splendour in this world," he added that the radiance of Cheah's creation came from his total commitment to the art form.
On hand to open the exhibition on June 3 was the guest of honour Cheah Yew Saik, a renowned artist and the founder of Kuala Lumpur College of Art. In his speech, he pointed out that ceramic art demands hard work, vast knowledge of glaze chemistry and techniques for kiln firing. "Yeow Seng has been persistent and his perseverance made him a total potter," he said. He also hoped to see more is done to promote ceramic art in Malaysia. Yew Saik is also the elder brother of Yeow Seng, and Yeow Seng cited his brother as an important influence in his artistic endeavours.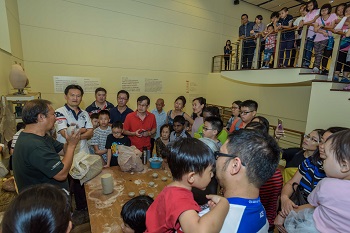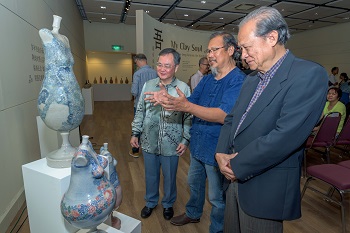 Artist Cheah Yeow Seng has been creating pottery art for the past forty-one years. Deriving his inspiration from the female figure, buildings and nature, the solo show was a testament to his undying perseverance and endless love. The exhibition also showcased his passion, acute observation and attentiveness to nature and environment. Each work also carried a message of love and care for Malaysia, the land where he was born and grew up in.
On display were various potteries made of Malaysian clay, including the common ones such as bowls and mugs and the more artistic ones such as vessels, containers and bird nests. One of the key series in the exhibition was the nyonya figurines, some of which were of pregnant women as this symbolised the continuation of life to Cheah. There was also a "broken" vessel decorated with wavy patterns done in response to the devastation the 2004 Indian Ocean tsunami caused in Banda Aceh, Indonesia.
To enhance the visitors' experience of viewing the exhibition, various activities were also carried out. Visitors were given the opportunities to touch and feel certain potteries under the supervision of the artist or narrators. For the benefit of the public, Cheah also conducted two sessions of demonstration in making pottery, including the use of a potter's wheel.