In early June, SGI Council member Dr Akash K. Ouchi visited Malaysia once again to conduct study meetings with SGM leaders. This is a follow-up from his visit in April.
On June 4, he conducted a study meeting with SGM leaders nationwide via live broadcast from the SGM Culture Centre. The theme of this study is the eternal guideline given to Malaysia by SGI President Daisaku Ikeda on December 5, 2010: "Malaysia, the Role Model of the Oneness of Mentor and Disciple."
Using The New Human Revolution and President Ikeda's lectures on "The Opening of the Eyes" as study material, Dr Ouchi spoke on the oneness of mentor and disciple and the importance of following the mentor's guidance in studying Buddhism. President Ikeda was trained by President Toda for ten years and he is still faithfully practising his mentor's guidance and hold dialogues with him in his heart each day.
President Ikeda is writing The New Human Revolution to leave behind an accurate record of the history of the Soka Gakkai and the correct way of practising the oneness of mentor and disciple for the sake of the members and future generations. Studying The New Human Revolution will enable us to engrave President Ikeda's spirit in our lives.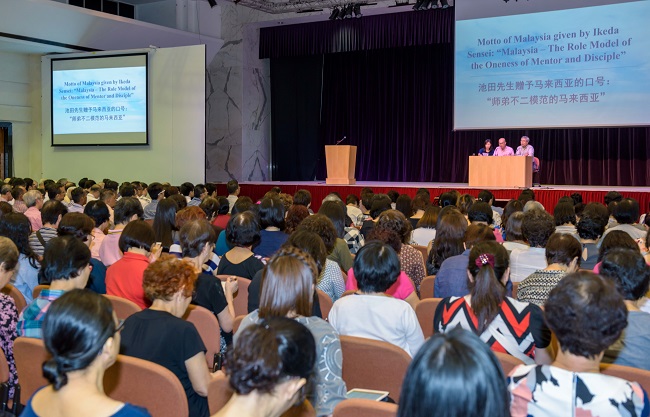 Using selected passages from "The Opening of the Eyes", Dr Ouchi encouraged the participants to pray in the same spirit as the mentor; to stand up and take responsibility for kosen-rufu in Malaysia and to uphold the same objectives as the mentor in achieving kosen-rufu.
Finally, Dr Ouchi urged SGM members to be a worldwide role model of the oneness of mentor and disciple to fulfil our mentor's expectation. We must strive to share Buddhism with others in the same spirit as our mentor, expanding the solidarity for peace that will change the destiny of society. Therefore, expanding SGM with 10,000 professors of happiness will be crucial in achieving this. He reminded Malaysia is the only country to receive such an eternal guideline from President Ikeda.
Dr Ouchi also travelled to Johor and Selangor to conduct study meetings with members in the two states. He spoke about the westward transmission of Buddhism and kosen-rufu in Asia using passages from the Gosho "On Reprimanding Hachiman." He urged all present to chant wholeheartedly and seriously for the sake of kosen-rufu, and devote ourselves to realising kosen-rufu in Asia in the same spirit as President Ikeda.
Dr Ouchi also held a dialogue with SGM Selangor youth, answering their questions patiently and sincerely.