May 3 marks Soka Gakkai Day and Soka Gakkai Mothers Day, with this year being the 30th Mothers Day. On this day in 1951 and 1960, Josei Toda and Daisaku Ikeda were inaugurated as the second and third presidents of the Soka Gakkai respectively. May 3 is a day where mentor and disciples make a fresh vow towards realising kosen-rufu for the sake of lasting peace.
SGI President Ikeda sent a congratulatory message for this joyous occasion. He wrote: "The Soka Gakkai is the sole organisation that has inherited the Daishonin's spirit, that is acting in exact accord with his teachings, and that has made kosen-rufu a reality in today's world. With ever greater pride in this, let us continue to advance in harmony and unity." He also urged members to strengthen their faith and realise their human revolution in order to encourage friends to create a fresh wave of kosen-rufu. 
On May 14 at the SGM Culture Centre, SGM Kuala Lumpur leaders and 100 representatives of the Student, High School and Junior Divisions gathered to celebrate May 3, with live broadcasts being carried out to 23 SGM centres throughout the nation.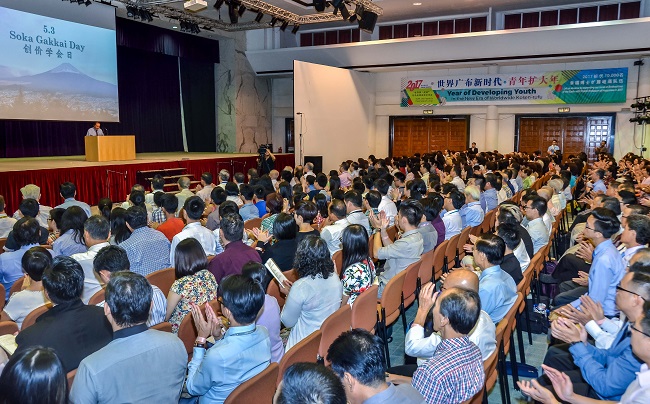 Meeting on May 14 in Kuala Lumpur
Men Division member Lee Meng Sum and his son Dr Lee Weng Kent shared a joint experience of building a happy family through faith and human revolution. Meng Sum shared his experience of joining the SGM gymnastics group in his youth to develop a positive outlook and later fostered Weng Kent to love studying. He overcame illness and financial difficulties to support his son in completing his six-year medical studies overseas.
Weng Kent is a member of the first class of Tadika Seri Soka. After finishing high school, he studied medicine in Russia. At first, he faced difficulty in adapting to the harsh climate, language and poor living conditions in Russia. His family members continuously encouraged him to believe that "Winter always turns to spring" in order to realise his dream of becoming a doctor. The family also chant daimoku together to create a family of happy practitioners. Meng Sum then presented a bouquet to his wife, followed by Weng Kent, drawing warm applause from the audience. 
SGM General Director Koh Sia Feai discussed the significance of "difficulty" with the audience, including how to view and overcome it; the positive side of "difficulty" from the standpoint of Nichiren Buddhism; awakening to it; gaining happiness through it and achieving Buddhahood through overcoming difficulty. Finally, Mr Koh urged the audience to strive hard for the sake of kosen-rufu and achieving SGM's goal of increasing its membership with 10,00 people this year.
| | |
| --- | --- |
| | |
| Meeting in Johor | Meeting in Kuala Lumpur |
| | |
May 3 Commemorative Gongyo Meetings
May 3 commemorative meetings were held in key SGM centres nationwide. As it is also Soka Gakkai Mothers Day, flowers were also presented to Women Division members, the mothers of kosen-rufu. The Soka Gakkai song "Mother" was also sung to praise the efforts of the Women Division in expanding kosen-rufu and fostering people. The lyrics of the song were written by President Ikeda.
Experiences in faith were also shared in order to encourage people to strive for the sake of kosen-rufu. A joyous atmosphere pervaded these meetings.
State Representatives Attend May 3 Commemorative Gongyo Meeting
Representatives from all states gathered at the SGM Culture Centre on May 28 for the May 3 Commemorative Gongyo Meeting. Leaders from SGM Penang Young Women Division; SGM Negeri Sembilan Men Division, SGM Selangor Young Men Division and SGM Johor Women Division shared rousing victory reports of sharing Buddhism and expanding kosen-rufu. They based their success on chanting abundant daimoku, harmonious unity among the four divisions in carrying out home-visits and holding sincere dialogues that moved people.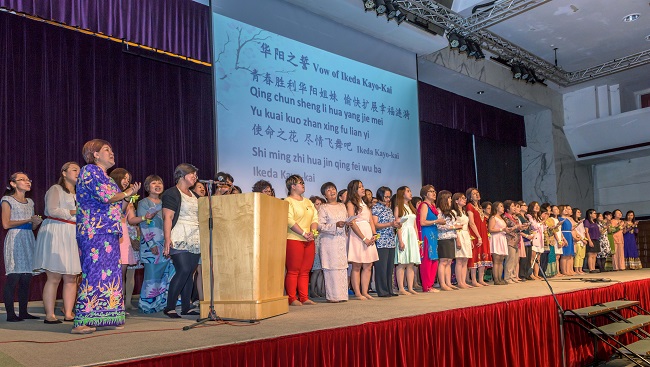 Meeting on May 28
In his speech, SGM General Director Koh Sia Feai said that from then on SGM would adhere to four guidelines. The first is shakubuku, or sharing Buddhism with others. SGM is striving towards expanding the organisation with 10,000 new members each year in 2017 and 2018. He hoped that every member would carry out this noble endeavour for the sake of accumulating good fortune and transforming their karma.
The second point is strengthening our bond with President Ikeda in order to build a rock-solid and establish the eternality of SGM. He stressed that each of us should be one in spirit with our mentor and study his works, such as The Human Revolution and The New Human Revolution seriously.
The third point is to forging the unity of many in body, one in mind throughout the organisation. The final is strengthening our faith day by day, month after month, as taught in the Gosho. Being complacent would lead to devilish functions taking advantage, and slow the advance of kosen-rufu.
In closing, he urged SGM members to be united for the sake of expanding SGM for the sake of responding to our mentor.