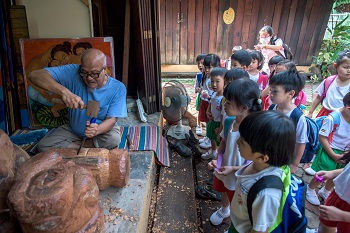 From May 23 to 25, 2017, 117 five-year old children of Tadika Seri Soka (TSS) visited the Kuala Lumpur Craft Complex in the city centre to learn more about arts and craft. This is part of TSS' education curriculum to inculcate the love of beauty in the children. They were accompanied by their teachers.
First the children explored the Malay Art Village within the complex. Later, they stepped into another "wonderland" of art, where they would get the opportunity to dabble in batik painting. Staff of the complex gave a detailed explanation of batik-painting to the children.
Following that, they experienced for themselves the wonder of creating batik. They saw how wax was melted, and applied colours to pre-prepared fabric, creating beautiful shapes such as flowers and various patterns on the fabric with their own hands. Their works were later spread out to dry in the sun and the children marvelled at their own creations.
They then followed another trail to the handicraft museum, where they viewed various hand-made craft such as traditional kites and baskets. The visit provided the children with a wide window into the world of traditional Malay handicraft that expanded their appreciation of beauty.