Celebrating the 34th Chinese Cultural Festival, SGM Terengganu co-organised "The Life of Lu Xun" exhibition at the Terengganu Chinese Assembly Hall from May 12 to 14, 2017.
Lu Xun is regarded as one of the leading figures of modern Chinese literature. The exhibition featured many precious photos to show Lu Xun's illustrious life and spirit from many angles.
Malaysian Chinese Association (MCA) Kuala Terengganu division secretary Toh Seng Cheng opened the ceremony on behalf of Terengganu Menteri Besar YB Datuk Seri Ahmad Razif Abdul Rahman. Toh encouraged the youth to read the classics in order to build positive values in life. He praised SGM for bringing the exhibition to Terengganu to enable the Chinese community to understand the spirit of Lu Xun and hoped that the audience would seize the opportunity to study his life closely. Also in attendance were Terengganu Chinese Assembly Hall president Tan Beng San and exhibition organising committee chairman Dr. Chia Poh Wai.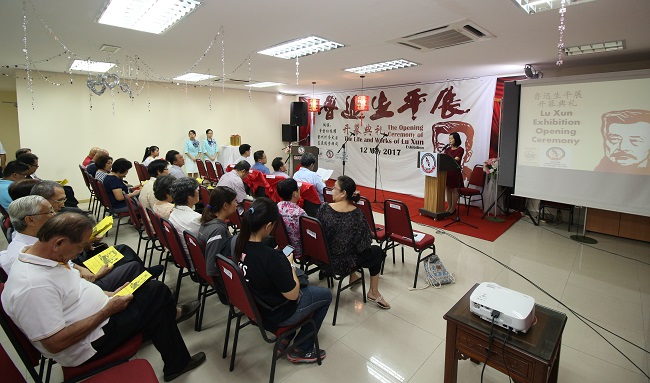 SGM Terengganu Chairman Khor Wan Koon pointed out that the exhibition was a platform for viewers to study and exchange ideas. It was also a response to calls from the community to encourage life-long learning and reading good books. He also noted that Lu Xun and SGI President Daisaku Ikeda also hold similar views on humanism and the dignity of life. Both men engaged in fostering youth to contribute to society and country.
After viewing the exhibition, several participants left positive feedback such as, "I learned that it is a struggle to advance forward", "I learned more about the root of Chinese culture", "Youths would find Lu Xun's thoughts worthy to be emulated."
Three movies inspired by the works of Lu Xun were shown during the exhibition: The Story of Ah Q, Medicine and Blessings.