On November 13 and 14, 2018, the "Gandhi, King, Ikeda: A Legacy of Building Peace" (GKI) exhibition was held at the Tun Tan Siew Sin Building of Tunku Abdul Rahman University College (TARUC) in Kuala Lumpur.
This exhibition was organised by TARUC's Faculty of Social Science and Humanities, with support from Soka Gakkai Malaysia (SGM). SGM was responsible for training 33 narrators from the institute so that they could understand narrate the life and struggles of these great figures.
On November 13, the opening ceremony was held at the building's auditorium. In his welcoming speech, TARUC President Prof Ir Dr Lee Sze Wei spoke on the lasting impact Mahatma Gandhi, Martin Luther King Jr and Daisaku Ikeda have left on the world, urging the audience to appreciate the legacy and fighting spirit they have left for future generations. Prof Lee also expressed his warmest gratitude to SGM for supporting the exhibition.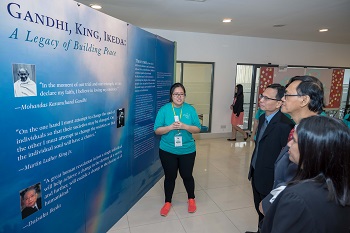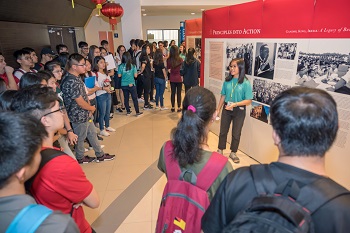 Later in his speech, SGM Secretary-General Lok Chee Khong spoke on the background of GKI, which aims to promote the message of peace and non-violence through the examples of these great figures. He hoped that visitors will be inspired by the idea that anyone has the ability to effect change for a better world.
After the ceremony, SGM members and TARUC students put up performances such as poetry recitals, songs and Indian dance, bringing messages of peace, joy and hope to the audience.
Audience members were inspired by the lives of the three personalities in the exhibition and their dedication to the pursuit of peace, and expressed their determination to work for a better society. Narrator Chia Zhi Wei said that she had learnt a lot from GKI and was eager to enhance her understanding of the various ethnic groups in Malaysia.
The exhibition welcomed 577 visitors to the exhibition.