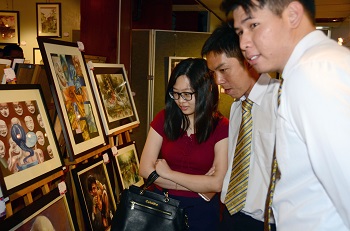 On November 9 and 10, 2018, SGM Kedah collaborated with Kedah's Keat Hwa High School to hold the "Art for Peace" exhibition at the SGM Kedah Culture Centre.
This exhibition displayed some 130 artworks created by the school's Senior Middle One and Two art class students using different media such as oil paint, acrylic paint, watercolour, pastel and others.
During the opening ceremony on the first day, students from the art classes presented several dance performances to the audience of some 100 people. President of North Kedah Art Society Wong Siew Lee mentioned that in order to be successful, an artist should have a good attitude towards life, sincerity in creating art and artistic talent as well. She expressed hope that the students would create many more wonderful pieces and spread the passion for art all over the country and bring joy to people.
In his speech, SGM Kedah Honorary Secretary Chong Sau Min introduced cultural, educational and peace activities promoted by SGM and hoped that this exhibition would be able to serve as a platform for the students to showcase their creative talents. Meanwhile, art class teacher Lee Tze Ching also said that he believed that art can make people feel loved and create harmony, which is in accord with SGI's peace ideals.
The exhibition received some 300 visitors in total.