From November 3 to 8, 2018, the "Art for Peace" exhibition was held at the SGM Selangor Culture Centre. The event, jointly-organised by SGM Selangor and Klang Artists Society (KAS), showcased 60 artworks created by 33 artists. Over the six days of the exhibition, some 350 people visited the exhibition.
The opening ceremony was held on November 4 with some 250 guests in attendance. Entertaining Cuban dance songs were played by SGM Selangor String Chamber to commemorate the opening of the exhibition.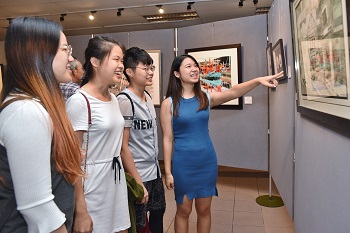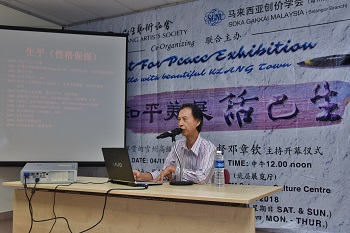 In his speech, SGM Selangor representative Tan How Kian stated that arts and culture can overcome all kinds of barriers and differences, connecting people through solidarity and peace.
On hand to officiate the opening was Klang Municipal Council councillor Tan Jee Kian. In his opening speech, he stressed that painting can express an artist's cultural influences. After that, a calligraphy interactive activity was held to promote cultural exchange.
Side events during the exhibition included KAS adviser Goh Boon Cheng and a children art workshop featuring candle crafting conducted by Adrian Foo and his team.