On May 8, SGM held an online meeting to commemorate the founding of the young men's (YMD) and young women's divisions (YWD) with some 450 nationwide chapter and above youth leaders attending. In addition, SGM women's division leader May Chan, vice-general director Johnny Ng and other senior leaders also attended.
As a start, SGM young men's division leader Tan Jun Kong shared the significance of YMD and YWD Days. He further said that efforts exerted during one's youth will never be wasted, and will become treasures in life that impart hope to people. He also urged all the youth to valiantly accept hardship and earnestly chant daimoku infused with a great vow.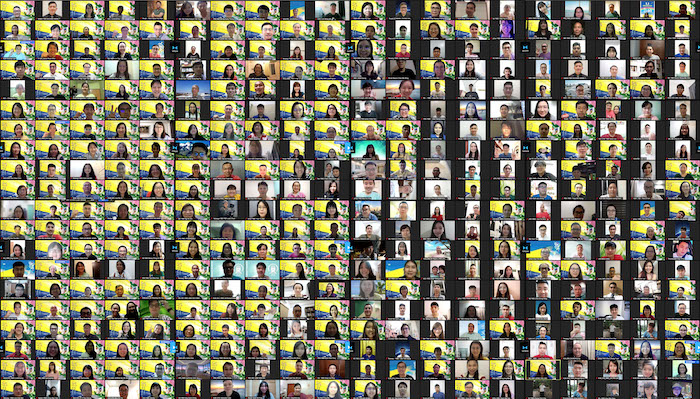 SGM YMD secretary Chang Chung Bin and YWD vice-leader Seow Phooi Khei introduced the activities and action plan to be carried out from May 9 to July 11. The theme for the commemorative meeting which will be held on July 11 will be "My Dialogue, My Victory" with achieving 200,000 dialogues, or one dialogue per day, by nationwide youths as its goal. For this, an online dialogue counter was created to encourage them to record successful dialogues. They further mentioned that a successful dialogue is a Buddhist dialogue that brings hope to the person.
Next, a video on President Ikeda's guidance titled "The Benefit of the 'Buddhism of Sowing' Is Eternal" was shown, inspiring the participants to keep on having dialogue with others. As long as one continues doing so, the waves of peace and friendship will definitely arise.
Lastly, SGM YWD leader Lee Kam Yit encouraged the participants saying that sometimes we would be afraid of initiating dialogue with others, but we must realise that there are numerous people who are still waiting for us to share this hope-filled philosophy with them. She urged the participants to start thinking that we must enable all people around us to gain happiness instead of just for ourselves. She also stressed that leaders should never forget the profound vow they made to our mentor and to always take swift action when it comes to encouraging members.