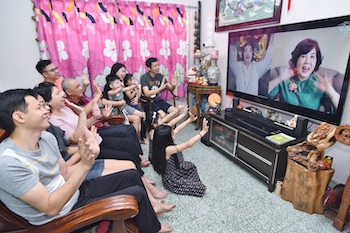 On May 9, SGM members nationwide celebrated May 3, Soka Gakkai Day, and the 70th anniversary of Women's Division Day (the women's division was formed on June 10, 1951) online. May 3 is a date of great significance as it is the date Josei Toda and Daisaku Ikeda were inaugurated as the second and third presidents of Soka Gakkai in 1951 and 1960 respectively. May 3 is also Soka Gakkai Mothers Day in appreciation of the vital role women play within the Soka Gakkai. The video received over 32,000 views as of June 10.
Entitled "Building Happy Families Together through Hope-filled Advancement," the commemorative video kicked off with sharing the significance of the dates May 3 and May 5, Soka Gakkai Successors Day. Following this, four women's division members shared their experiences on transforming themselves through practising Nichiren Buddhism and studying SGI President Ikeda's guidance to overcome their particular obstacles, discovering their true purpose and emerge victorious. They each overcame their unique challenges, which included career, colleagues and a child born with disabilities, leading to a deep realisation of the power of the Gohonzon and their individual missions in life (watch video).
To enhance the importance of building happy families, the programme also showed families working together on reducing wastage, reusing materials, environmentally-sustainable gardening, recycling and enzyme-making. By doing this, the members also could educate their children about climate change and the United Nation Sustainable Development Goals (SDGs) (watch video).
SGM women's division leader May Chan was on hand to encourage the participants. She urged the members to keep having hope in their hearts in line with President Ikeda's words of encouragement to the women's division: "Hope is the conviction to believe in the future; hope is the courage to continue challenging; hope is to advance tenaciously from today towards tomorrow."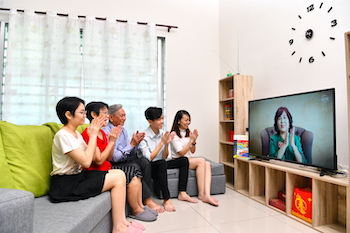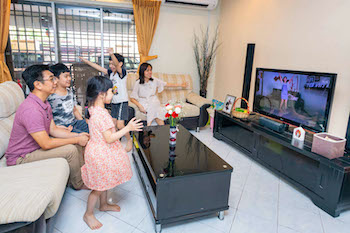 She pointed out that despite the pandemic and the ensuing suffering it brought upon humanity, SGM members are conducting dialogues and taking action to encourage people around them, turning anxiety into hope and mistrust into trust.
May also stressed that SGM members are actively engaging in the sustainable development movement, starting with their families and employing creative means. Hence, they are contributing to their communities and creating infinite hope for themselves and others.
The production of the video involved the hard work of over 60 youths and took over close to three months to create. It is hoped that each of them will manifest their ingenuity and uphold the realisation of "I am that one disciple," with each one will making a fresh determinate departure from now on.