On May 15, the SGM Navigator Group celebrated its eighth anniversary with an online commemorative meeting titled "Create Bonds of Beautiful Friendship through the Invigorating Power of Dialogue" with some 100 participants from Negeri Sembilan, Selangor and Kuala Lumpur.
The group consists of narrators for SGM's arts events and was given its name by SGI President Ikeda on May 3, 2013. The group has the mission of "navigating" society on the path of peace, education and culture.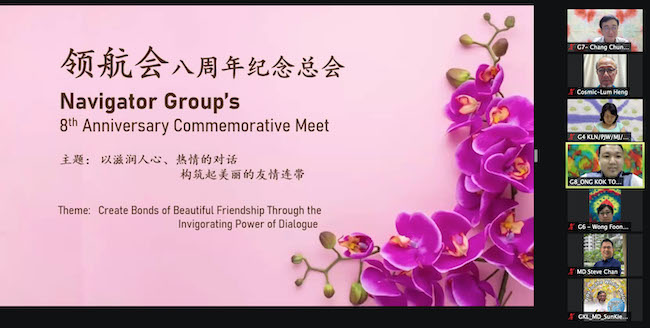 Group leader Vicky Ho Pei Ying first introduced the significance of the eighth anniversary and the group's activities focus. Though physical activities are currently on hold, group members are urged to fully engage themselves in dialogue and take care of their friends and families. She also encouraged them to participate in online art and culture activities. Many art galleries are now holding online exhibitions due to the pandemic.
Members also shared their artistic creations and their impression of engaging in art and culture activities. Group members Brian Fam and Tan Lan Yoong shared their experiences in faith and resolution.
Lastly, SGM men's division secretary Looi Chee Cheong held a study on "Reviving the Poetic Spirit" by sharing the spirit of Indian poet and philosopher Rabindranath Tagore. He elaborated on the meaning and importance of a poetic spirit, and how to revive this spirit through arts, culture and education. He then urged the participants to actively engage in dialogues of courage and hope, thus awakening this spirit in themselves and others.